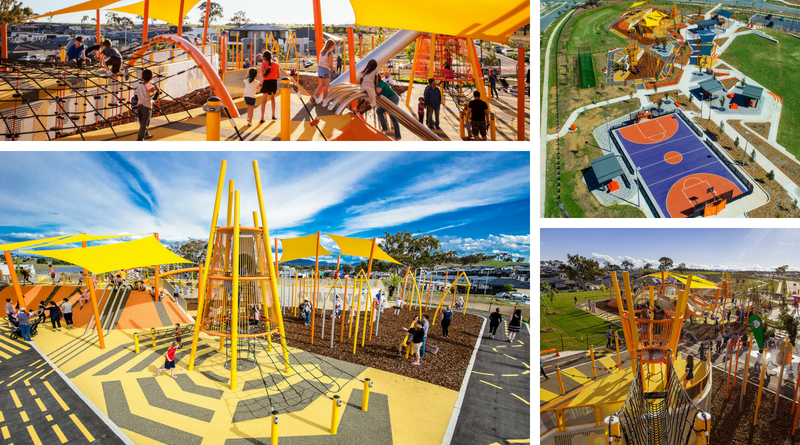 The Australian Institute of Landscape Architects (AILA) ACT Chapter has awarded Moncrieff Community Recreation Park by Redbox Design Group with the Landscape Architecture Award as part of the 2018 program.
The Moncrieff Community Recreation Park is a multi-use park designed for the Suburban Land Agency, Sport and Recreation Services.The park has been designed to support the needs of the whole community seamlessly integrating an array of exercise, play and ball sport areas for the whole family. The balance of colour, pattern, soft surfaces and angular vertical forms add excitement by creating a myriad of opportunities to interact with equipment in a challenging yet safe environment.
Speaking about the project, AILA ACT President Gay Williamson described how the park simultaneously serves the different needs of multiple user groups by zoning teenage recreation facilities from the needs of the very young enabling parental supervision from the relaxation of shaded sites and integrating furniture.
"Redbox Design Group were able to capitalise on aspects of the hill top utilising mounds and retaining walls to add exhilarating play features and spaces for ball sports, fitness activities and BBQ facilities."
"Larger irrigated grass areas provide a balance and opportunity for young children to explore the natural environment in a safe and playful manner whilst teenagers and those seeking more challenging exercises are catered for."
The AILA ACT Awards are a timely reminder of the role that Landscape Architects play in shaping cities across the country and are particularly prevalent with the population changes and urban renewal that is happening in many parts of Canberra.
Canberra as a city is epitomised by the landscape as the foundation providing the community with a green and open environmental amenity.
"With block sizes becoming smaller in some of the newer suburbs of Gungahlin, it has never been more important for our community to access quality open and green space like Moncrieff Community Park," said Ms Williamson.
In other awards…
Recipients of the Excellence Award for Landscape Architecture:
| | |
| --- | --- |
| Civic Landscape | Jane Irwin Landscape Architecture in collaboration with National Capital Authority, Hill Thalis. SMEC and AECOM for the Constitution Avenue Transformation |
| Tourism | Harris Hobbs for contour 556 |
| Community Contribution | SPACELAB for Craft Your Park community consultation process. |
Recipients of the Landscape Architecture Award in were:
| | |
| --- | --- |
| Tourism | Harris Hobbs, Jim Fogarty Design, John Patrick + Bosque Studio for the Gallery of Gardens. |
| Research Policy & Communication | Tait Network and Streets for Community: Places to Be, Walk, Cycle and Drive |
| Parks and Open Space | Redbox Design Group for Moncrieff East. |
| Play Space | Moncrieff Community Recreation Park – Redbox Design Group |
| Infrastructure | Fetherston Ridge by Tait Network |
| Cultural Heritage | Envrio Links Design for the Manuka Oval, Tree Management Plan and 30/yr Replacement Master Plan. |
| Urban Design | ANU Reunion Pop-Up Village by OCULUS in association with Craig Tan Architects |
| Community Contribution | Garema Place Pop-up Park by CONTEXT Landscape Design. |
| Small Projects | Weston Park Shelter by Redbox Design Group in collaboration with Phillip Leeson Architects |