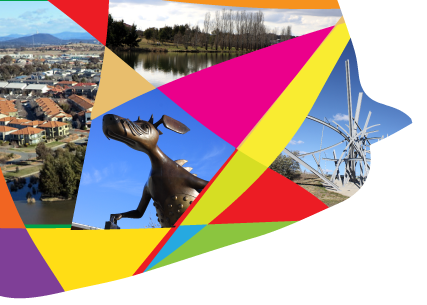 My sister and I thoroughly enjoyed Baz Luhrmann's Romeo & Juliet and not that long ago were able to relive it on the big screen at Lime Light. This was great for me as I never did see it on the big screen when it was originally released.
When I saw Gungahlin College were putting on Romeo & Juliet it was decided quickly that we would both go and picked the dinner show package. I was also looking forward to seeing the actual theatre at the College having not yet seen it but hearing good things.
Unfortunately I have been sick the last couple of days and decided I wouldn't be well enough to go so my sister arranged to go with a friend. The following is my sisters review.
An all round polished production of Romeo & Juliet by Gungahlin College.
Firstly, I am glad we opted for the dinner package, it was a delightful little add on. We were pleasantly greeted by students and ushered to candle lit – white linen covered tables [which make this a "posh" restaurant according to my mother, i guess i should take her out more]. Sitting among other 'theatre' goers we were surrounded by a variety of student art work proudly on display, a few of which i would have happily purchased if they were for sale and i had more walls in my apartment. There was even someone on hand to draw your portrait, novel idea i thought.
Dinner music played in the background whilst we all enjoyed a leisurely dinner before the show. I opted for the vegetarian lasagna and stuffed zucchini…and one, just one piece of the lemon chicken. All very delicious. I should pay one of these students to cook for me.
The play starts, there is jittery laughter from the crowd [this jittery laughter arose from the same area during any kissing scenes]; i assume they are friends of the thespians about to take the stage.
It is obvious throughout the play that a lot of thought and planning has gone into the behind the scenes stage work of this production. The use of the stage, props, theatrical entrances, exits, and stills of the performers allows the story to be told using limited space.
The acting of the key players was outstanding; young Juliet excelled at the desperate and tortured scenes, filling the stage and the room with her anguish and torment. Young Romeo threw himself into the role, emotionally and physically – that boy will have bruises tomorrow i have no doubt. My best on ground however goes to the young lad who played Mercutio and the lass who played 'the Nurse'. Simply outstanding natural talents; both of them. I stand and applaud you both. Well done.
So all in all i had a well prepared meal [including some tasty treats and a well brewed coffee-which is more than can say for some of the coffee shops around Canberra…and i am a public servant so i know my coffee]., saw talented art work and portraiture and was awed by some wonderful young actors/actresses. I feel completely inferior but content and entertained.
I give it four out of five bitten thumbs and commend it to you all. [Though i always wondered; why didn't Juliet just run off to Manuta with Romeo?]
Gungahlin presents Romeo & Juliet is still running tonight the 20th and tomorrow the 21st of September.