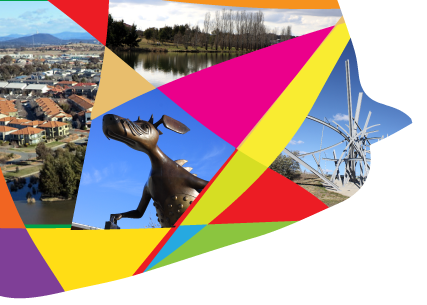 Shoppers all across Canberra have flocked to Marketplace Gungahlin today for the opening of the new concept Kmart and new speciality retail stores, marking the completion of a $60million redevelopment.
Over the past 18 months, shoppers at Marketplace Gungahlin have seen a number of changes introduced to the centre as part of the significant expansion to bring further retail choices and a more convenient shopping experience. These changes included the opening of the new basement carpark with over 500 car spaces, a new underground carpark link that connects the new carpark and the Big W mall carpark as well as a new concept Woolworths.
Kmart Gungahlin is the 6th store to be opened by the leading retailer nationally this year, yet a first in the ACT. The new and elevated store layout provides locals with all of Kmart's coloured product worlds including clothing, toys and home. Noticeable updates include central self-served check outs, wider aisles for easy wheel chair and pram access, as well as bolder graphics for navigation and a convenient shopping experience.
Paul Morgan, Centre Manager for Marketplace Gungahlin, says the community have been excited about the arrival of Kmart in Gungahlin since the redevelopment was announced in May last year.
"Kmart's arrival and the completion of the redevelopment has generated a lot of interest on social media, and we are expecting a big turnout for the opening of the new mall and Kmart," Morgan said.
"Prior to commencing our redevelopment, we spent a lot of time working with local residents to find out what they wanted in Gungahlin. The community was very interested and open to having input to the changes, and outlined that they wanted enhanced choice and convenience.
"Kmart will open tomorrow along with a suite of other speciality retailers including Bookface, Boost Juice, Oliver Brown, Flight Centre, Elite Supps, Laser Clinics Australia, Ozmosis, Lowes, Gelatissimo, Ed Harry, Prouds, Poetry in Flowers and Beauty Central These new retailers combined with our existing retail mix will give Gungahlin a wide range of shopping, eating and service choices.
"We've also made improvements to the existing Centre to cater for the growing region and its increasing population. The new and improved Marketplace Gungahlin is now a more accessible shopping destination for all residents." Joe Connaughton, Store Manager for Kmart Gungahlin is eager for the new store's opening this Thursday.
"Myself and the entire Kmart Gungahlin team are really looking forward to opening our doors to the Gungahlin community this Thursday and seeing our much loved customers smiles as we welcome them into our store. We are honoured to be a part of a community which is growing more and more each year," Connaughton said.
Local Gungahlin MLA Meegan Fitzharris said the completion of the redevelopment and opening of Kmart were exciting changes for the town centre.
"There are more people living, working and shopping in Gungahlin than ever before, so it's great to see more retail options right here in the heart of our community. With light rail now well underway, more than 600 ACT Government staff working out of Winyu House and this fantastic new development, Gungahlin has so much to offer," Fitzharris said.
Marketplace Gungahlin celebrated the opening of Kmart and other speciality stores with a ribbon and cake cutting ceremony, free family entertainment, a Santa appearance and free gifts for customers.