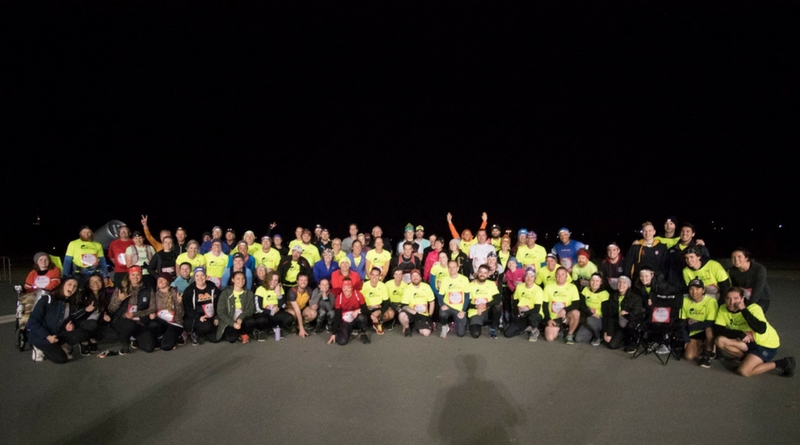 On Sunday night I along with 74 other runners took part in the Wings for Life World Run at the Criterium Circuit, Stromlo Forest Park where participants started the run at precisely the same time, whether it was dawn in North America, the middle of the day in Europe, or at 9pm here in Canberra which made for an exciting and cool night running experience!
This year was the fifth edition of the Wings for Life World Run where runners joined across time zones and continents for one special goal – to make a difference for those with spinal cord injury.
With a radical concept, the Wings for Life World Run is a global race with a difference. Instead of a finish line, runners and wheelchair competitors – from beginners to elite athletes – race side by side to keep ahead of the Catcher Car.
In Melbourne and other global locations Catcher Cars took off 30 minutes after the start at 15km/h and steadily increased their speed, precisely synced across the globe, until the last participant was caught.
As this was a planned App run in Canberra we used the Wings for Life World Run App to be notified when to start along with all the other runners globally and when the virtual Catcher Car was catching us and when it finally caught us.
Normally I run in the mornings so completing a run in the late evening was a strange concept for me. It was also quite strange heading out late on a Sunday night when I would normally be getting ready for an early night as I am usually at the gym at Elements4Life early Monday mornings. It was great to see so many familiar faces at the event that I usually see on a Saturday morning at parkrun Gungahlin.
After the registration process was complete 75 runners lined up at the start line waiting for the official start where we would run laps around the 1.2km circuit for as long as we can until caught by the catcher car. The event sponsor Red Bull had personnel on hand to manage the event as well as having a aid station set up with water, Red Bull (to give us wings!) and fruit.
I haven't done that much running since my last big event in November last year at City2Sea (14km) in Melbourne. I had set myself a goal of reaching 15km before being eliminated by the virtual Catcher Car.
At 14km I got a warning that the Catcher Car was approaching but didn't look at the app to see just how close or far away it was. I was struggling at that point but was determined to get my goal so I set off pushing harder than I had run the previous 4km knowing I just had to do at least one more kilometer to achieve my goal. I was relieved when I got the alert I had reached the 15km mark and only seconds later I got the notification I had been caught by the Catcher Car and was eliminated. Goal achieved!
The global winner was wheelchair athlete Aron Anderson completing 89.85km. In Melbourne, Australia's female winner, Ana Villegas ran 46.9km, and the male winner, Jacek Cieluszecki ran 67.30km.
Here in Canberra Brendan Codrington ran was the male winner running a total of 47km and Cassie was the female winner running 34.5km.
A thank you must go out to the local Canberra partners who helped this event come to life, Kennards Hire, The Runners Shop, The Athlete's Foot Belconnen and UniLodge UC.
If you would like to take part in the Wings for Life World Run Canberra App run in 2019 follow the Facebook page to keep informed: www.facebook.com/wflwrcanberra/