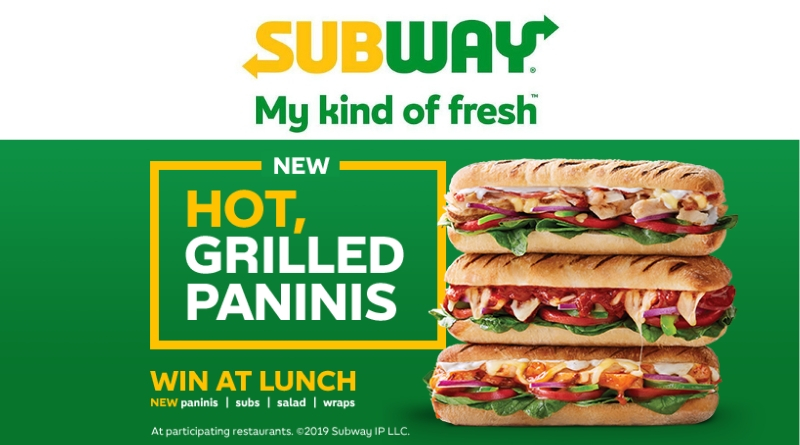 Subway has answered the calls of hungry office-workers and tradies around Australia, with new ways to say "game-over" to leftovers, with a sensational new range of crispy, grilled paninis – launched in Gungahlin restaurants this week.
Guests at Subway restaurants in Gungahlin can now enjoy crispy paninis, grilled to perfection on freshly-baked ciabatta bread and oozing with melted mozzarella – the perfect choice to impress any workplace and "Win at Lunch".
Gungahlin guests were some of the exclusive taste-testers who helped determine whether paninis would be added to Subway's menu.
The new pressed-to-impress range features four signature panini flavours, perfect for lunch or dinner, as well as four breakfast paninis to help kick-start the day, including: Buffalo Chicken; Mediterranean Veg; Ham, Cheese & Tomato Melt; and BBQ Bacon & Egg.
Subway Senior Manager of Brand Marketing Ben Milessaid each signature panini flavourhad been meticulously developed by Subway's food science and innovation experts, for a modern and tasty take on the traditional Italian grilled sandwich.
"Each individually-crafted panini is topped with toasty tomato, onion, spinach and capsicum, and crowned with a layer of smoky mozzarella, before being until the oozy cheese drips from the crispy ciabatta bread," Mr Miles said.
"As the weather cools down, lunchrooms are filled with hungry Aussies searching more something more exciting than their drab lunch leftovers. Now it's 'game-over' for leftovers – with hot, grilled paninis to help any co-worker 'Win at Lunch'.
"Our signature paninis are a way for our guests love to find new ways to enjoy new and classic Subway flavours.
We've also introduced a tasty new vegetarian menu option, with our Mediterranean Veg panini, featuring tangy crumbled feta, juicy sundried tomatoes and pesto mayo."
Subway's panini range was trialled in 40 restaurants earlier this year, ahead of being added to the menu at all Australian Subway restaurants recently.
Subway is no longer just about subs, with amenu packed full of daring and mouth-watering options, from crisp, freshly-made salads and flavour-packed wraps to hearty paninis and our iconic submarine sandwiches.
Not only has Subway® Gungahlin added paninis to its menu, but it has also has revitalised its core ingredients with over 20 recently added ingredients and tasty sauces includingnew pesto mayo, smoky BBQ sauce,seeded mustard, crumbled feta and sundried tomato.
For more information about Subway's menu and ingredients, including nutrition information, please visit Subway.com.au and subwayisfresh.com.au.
SUBWAY®SIGNATURE LUNCH PANINIS
Chicken & Bacon Ranch Panini – Grilled chicken, streaky bacon, melted mozzarella, spinach, tomato, capsicum, red onion and ranch dressing
Buffalo Chicken Panini – Buffalo chicken, melted mozzarella, spinach, tomato, capsicum, red onion and blue cheese dressing
Pizza Melt Panini – Salami, pepperoni, melted mozzarella, spinach, tomato, capsicum, red onion and marinara dressing
Mediterranean Veg Panini – Rich and aromatic sundried tomato, capsicum, spinach, tomato, red onion, rich crumbled feta, melted mozzarella and pesto mayo dressing
SUBWAY® SIGNATURE BREAKFAST PANINIS
Ham, Cheese & Tomato Melt Panini – Ham, melted mozzarella, spinach, tomato, capsicum, red onion and mayo dressing
BBQ Bacon & Egg Panini – Egg, streaky bacon, melted mozzarella, spinach, tomato, capsicum, red onion and smoky BBQ dressing
Egg & Cheese Panini – Egg, melted mozzarella, spinach, tomato, capsicum, red onion and mayo dressing
Ham, Egg & Cheese Melt Panini – Egg, ham, melted mozzarella, spinach, tomato, capsicum, red onion and smoky BBQ dressing