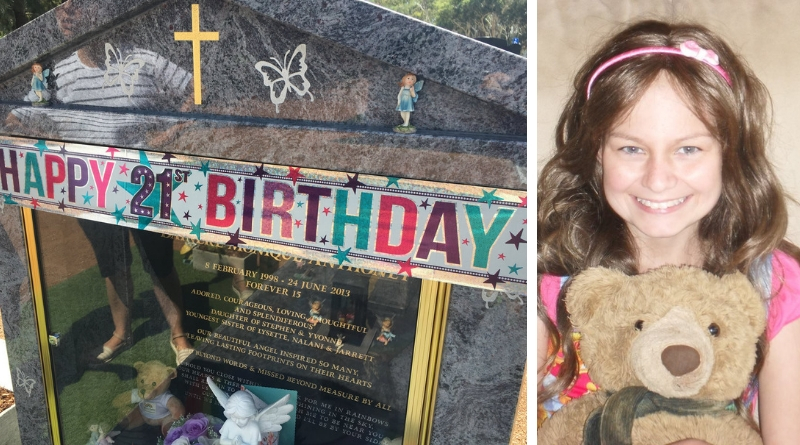 What did you do to celebrate your 21st Birthday?
What were your hopes and dreams?
Today is what should have been a day where Dainere Anthoney Celebrated her 21st Birthday. Dainere will forever remain 15, never given the chance to have the amazing and most incredible future she deserved, cruelly stolen by such an insidious disease – brain cancer.
She is not able to Celebrate her 21st Birthday and an entire classroom of children each year in Australia who have their young lives stolen to brain cancer will never get to celebrate their 21st Birthday's either.
Dainere did have hopes and dreams and during her short life, she achieved much, much more than many of us ever will in our entire long lives.
She was always such a deeply caring and exceptionally giving girl, who would always put others first, wanting to take care of and bring happiness and love to others. So her selfless, tireless, inspiring, determined, extraordinary and courageous work to give hope and create change for others came as absolutely no suprise.
Dainere is not able to celebrate her 21st Birthday, however her hopes and dreams can be kept alive by having as many people as possible speak out and reach out to be a voice and a advocate to increase awareness of paediatric brain tumours and to always seek ways to support and raise funds for vital research within the community.
Driven by keeping Dainere's legacy alive, Dainere's Rainbow Brain Tumour Research Fund has raised over $351,000 to support vital brain tumour research led by Dr David Ziegler at the Hospital's Kids Cancer Centre. Research that's already showing amazing results.
To honour and continue Dainere's legacy for her 21st Birthday and beyond the Anthoney family and Dainere's Rainbow Brain Tumour Research Fund invitie you to and would be so humbled if you would please consider sharing brain tumour facts, symptom awareness, appreciate the doctors and nurses who work with such devotion, about Dainere and Dainere's Rainbow on social media, with your family and within the workplace or make a small donation for Dainere's 21st Birthday, receive a tax deductible receipt and know that your are bringing new hope for every single child diagnosed with a brain tumour. Every single dollar really does make a difference is is genuinely appreciated.
"Dainere, you are loved far beyond words and missed way beyond measure and the most enormous piece of us is with you forever and always."
Donate to to support vital research here: https://www.schf.org.au/fundraisers/DaineresRainbow446/Dainere–s-Rainbow-Brain-Tumour-Research-Fund