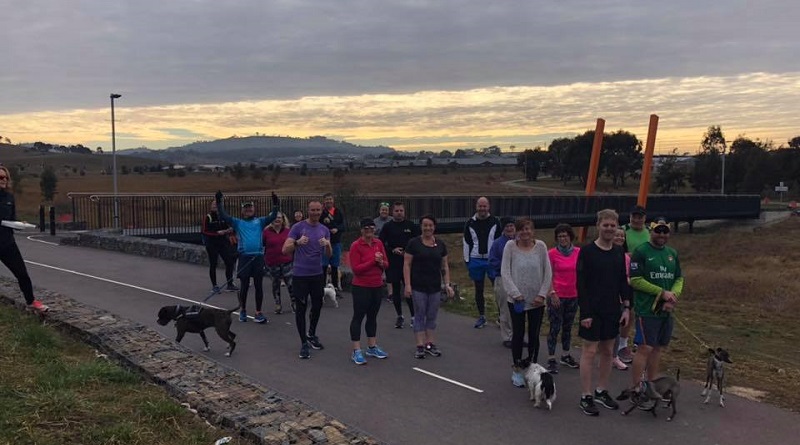 Gungahlin is getting a new parkrun event! Due to the growing popularity of parkrun at Yerrabi Pond a new event has been established to support the growing interest in this weekly event. Wagi Bridge parkrun launches on 26th October.
parkrun organise free, weekly, 5km timed runs around the world. They are open to everyone, free, and are safe and easy to take part in.
These events take place in pleasant parkland surroundings and we encourage people of every ability to take part; from walkers or those taking their first steps in running to Olympians; from juniors to those with more experience; we welcome you all.
Gungahlin parkrun at Yerrabi Pond is celebrating its 6th birthday this year a week before the launch of Wagi Bridge parkrun and has steadily grown to an average of 189 runners per week and during summer can easily attract over 300 runners. Due to the popularity of Gungahlin parkrun now is a good time for the Gungahlin region to get a new parkrun event.
The new Wagi Bridge parkrun located between Amaroo and Moncrieff is centered around the Wagi Bridge foot bridge and provides a picturesque undulating 5km two lap course on the shared path from Wagi bridge heading to Mirrabei Drive and back again to Wagi Bridge.
Event Director Ian Shaw shared with us his inspiration in getting this new event up and running. "My first ever parkrun was on the Australia Day weekend in 2014 at Gungahlin parkrun. On that day the weather was perfect for an early morning Summer run as I joined 107 other runners, walkers, pram pushers and dog walkers for Gungahlin's 15th event. My intentions at the time were to get fit but I knew I was joining something special. Prior to 2014 my running habits have always been solo, a way to unwind at the end of a working day and to keep myself fit. Although this is still an integral part of my weekly running habits, it is the parkrun community that has got me addicted. I have connected with friendship groups that share the common interest of running. Each of us feeds off the enthusiasm of others and the support and encouragement that brings. Friendship groups have seen me travel to running events that I thought I would never attempt. Connections to other Gungahlin runners have seen tremendous comradery between all of us as each individual's achievements are celebrated. At age 51, I ran my first ever marathon in the Hunter Valley last year. Since 2014 I have ventured to over 50 other parkrun events and can say that each individual event has the same strong, encouraging and friendly community atmosphere. It is this experience along with witnessing the growth and connections in the Gungahlin event that triggered a desire to set up a second parkrun for Gungahlin. When Wagi Bridge was built it provided the residents on the Moncrieff side of the area connections to schools, shops, medical facilities, public transport, sporting facilities as well as other community services. Knowing the growth that is occurring in the area and the strain being placed on the Gungahlin parkrun event, the timing is right to provide a second parkrun option for Gungahlin residents as well as providing an event in the Moncrieff / Amaroo area that can support the very community friendly atmosphere that parkrun is renowned for to our newest Gungahlin residence."
This event has been made possible with thanks to the Gungahlin Community Council who have donated $5,000 to supplement the $2,500 donated by community members to fund the required startup costs for equipment including a defibrillator.
Gungahlin Community Council President Peter Elford explained why the GCC got behind this initiative. "Part of the GCC's mission is to improve the well-being of Gungahlin and the Gungahlin community, through a whole range of activities including fostering a community identity, improving the quality of life in Gungahlin, and advocating for services and facilities in Gungahlin. The overwhelming success of Park Run in Gungahlin has demonstrated how important activities like this are to Gungahlin residents, and we are thrilled to be able to direct a portion of the funding we receive from the ACT Government to the establishment of the Wagi Bridge event."
The event will be held every Saturday morning from 8am with a briefing to be held at 7:45am from the 26th October. We will be encouraging participants to run, jog, walk or bike to parkrun but for those that choose to drive we will ask them to park at the Amaroo school and Good Shepherd School car parks. Please do not park in residential streets.
As mentioned, parkrun welcomes participants of all abilities so we welcome you to come and run, jog or walk the course. Before attending your first parkrun make sure you register here.
Every parkrun only happens because of the time and dedication of the volunteers. If this is something you would like to be involved in first, and most importantly, the event team never ask anybody to do anything they're not comfortable with. If you don't want a particular task, you can let the team know and they will happily give you an alternative job. Nevertheless, none of the tasks are too stressful. You could be organising the finish funnel, operating the timer, or scanning the runners' barcodes with the simple barcode readers; they try to start people out on a general marshalling type job, so they get a feel for how the events operate.
To keep up to date with Wagi Bridge parkrun including the launch date or get in touch with the event team please follow the Facebook page Wagi Bridge parkrun and for more information see the webpage here Wagi Bridge parkrun. Join the launch event here Wagi Bridge parkrun launch.