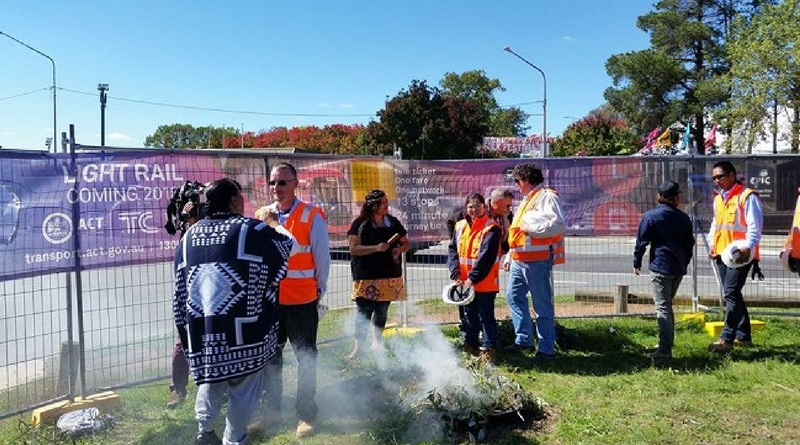 The 12 kilometre light rail corridor was the focus of a smoking ceremony by local Ngunnawal traditional custodians at a special gathering.
The smoking ceremony, held on Flemington Road near Exhibition Park in Canberra, involved the lighting of various native plants to produce smoke, to ward off bad spirits and cleanse the site.
Minster for Transport and City Services, Meegan Fitzharris was please to have Canberra's light rail project supported by the traditional custodians of this land.
"It was a wonderful occasion to witness Elder Uncle Carl Brown and daughter Tina Brown perform this significant ancient custom on a section of the light rail route," Minster Fitzharris said.
"The light rail project continues to take shape as an integral component of the ACT Government's commitment to ensuring Canberra remains a viable and sustainable city with an integrated transport network."
As well as the lighting of native branches, the ceremony also included a performance by local Ngunnawal dance group, The Wedge Tailed Eagles.
"I would like to thank the team at Canberra Metro for liaising with the local Ngunnawal traditional custodians in arranging for this important tradition to take place today," Minister Fitzharris said.
"It is exciting to see how the progression of the light rail project is continuing.
"The Northbourne Avenue median tree removal phase is nearing completion, with the laying of track remaining on schedule to begin mid way through 2017.
"The first light rail vehicles are also expected to arrive later this year and once spring and summer arrives, landscaping works are planned to commence with the planting of new Eucalyptus mannifera trees set to revitalise the Northbourne Avenue boulevard."
Photo supplied by Canberra Metro