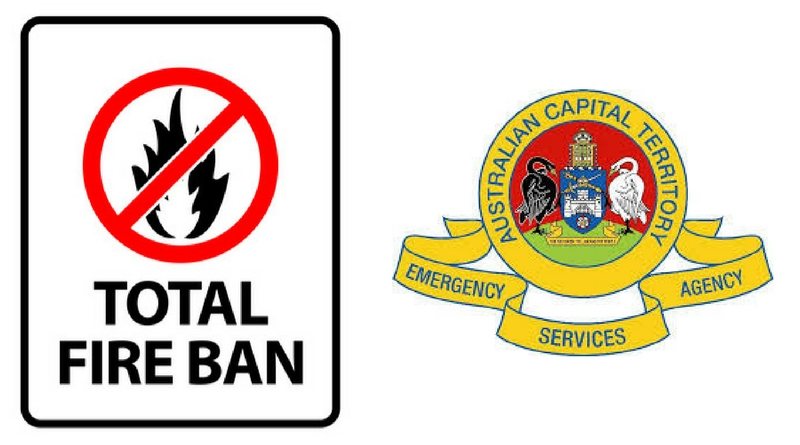 ACT Emergency Services Agency Commissioner Georgeina Whelan has declared a Total Fire Ban for the whole of the ACT under Section 114 of the Emergencies Act 2004 from midnight Wednesday, 20 November 2019 to midnight Thursday, 21 November 2019. The Bureau of Meteorology is forecasting strong winds and dry conditions tomorrow with a predicted temperature of 38 degrees. The forecast Fire Danger Rating (FDR) for tomorrow is predicted to be SEVERE. This means if a fire starts it may be uncontrollable and move quickly. Residents in Bushfire Prone Areas are urged to review their Bushfire Survival Plan or if you don't have a plan in place, to take the time to create one. The ESA advises you to make sure you know where you will get more information and monitor the situation for any changes. You can do this through esa.act.gov.au, the ESA Twitter and Facebook accounts, local ACT media outlets or by calling Access Canberra on 13 22 81. To find out more about Total Fire Bans, including any closures or restrictions visit esa.act.gov.au or call Access Canberra on 13 22 81.
During a total fire ban, it is an offence for a person to:
Light, maintain or use a fire in the open air;
Use fireworks in the open air;
Undertake a high risk activity. These are activities which may cause fire to ignite, and include welding, grinding, soldering and gas cutting; and
Use of slashers and harvesting machinery in rural areas.
If it is necessary to undertake these activities on a total fire ban, you must first apply for a fire permit from the ESA. Strict penalties apply to persons who undertake any of these activities without a fire permit.
Persons are asked to remain extremely vigilant at all times on days of total fire bans with the activities in which they undertake. You should take extreme caution while driving or parking vehicles through long open grassed areas, mowing yards, or visiting remote wilderness or forested areas of the ACT.
Access restrictions and closures may apply to many public reserves, camping grounds, pine forests and other remote areas.
If you see any careless or criminal activity relating to total fire bans, call Crime Stoppers on 1800 333 000. If you see a fire break out, call 000 immediately.
Use of Barbeques
Electric barbeques provided at the Cotter, Casuarina Sands, Pine Island, the National Arboretum Canberra and in Canberra's urban parks will be available for use, however all gas barbeques will be turned off.
Gas or electric cooking appliances only may be used during a total fire ban day for cooking or heating liquid if:
The barbeque is under constant adult supervision and attendance;
The area within three metres of the barbeque is cleared of all materials which could burn; and
A fire extinguisher or continuous supply of water is available for use to extinguish the fire if required.
The following nature reserves and roads will be closed for the duration of the Total Fire Ban:
Tidbinbilla Nature Reserve,
selected roads within Namadgi National Park including Apollo Road,
Orroral Road,
Old Mill Road,
Warks Road,
Mount Franklin Road and the Corin Dam Road,
Googong Foreshores,
Kowen Forest,
Lower Molonglo River Corridor,
Molonglo Gorge Nature Reserve,
Mulligans Flat Woodlands Sanctuary and
the Centenary Trail between Goorooyarroo Nature Reserve and Hall.
The Boboyan Road and Brindabella Road remain open to through traffic.
The Tidbinbilla and Namadgi Visitors Centres will remain open.
Swimming areas at the Cotter and along the Murrumbidgee River such as Kambah Pool, Pine Island Point Hut and Uriarra Crossing will remain open.