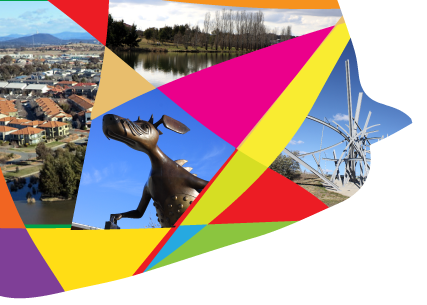 Canberra's newest suburbs are the setting for a supernatural new play, The Slip Lane, by Canberra's contemporary theatre company, Aspen Island Theatre Company.
The Slip Lane is a funny relationship drama and satire that offers a critique of modern Australia looked at through the prism of Gungahlin.
The story of The Slip Lane centres on Matthew and Missy, two outsiders who each live alone in the suburbs that have magically appeared at the edge of Canberra, where houses look into paddocks, where streetlights meet darkness and where human connection dissolves into the void.
Discarded from society and alienated from his own life, Matthew seeks purpose through a campaign to improve the intersection of Gundaroo Drive and the Gungahlin Drive Extension. Missy is spooked by a threatening presence outside her window and needs a confidant. Reluctantly thrust together in the mortal struggle with the meaning of each other's lives and the apparitions that stand between them, the only thing that can save them is in short supply. Compassion.
The Slip Lane is an original play that peels back the veneer of suburbia to reveal the unlikely array of everyday joys, cruelties and lives it holds within. With the national capital's newest suburbs at its heart, it promises to be a profoundly whimsical meditation on life in the 'burbs.
Supported by the ACT Government, GEOCON and The Street.
Venue: The Street (Street One)
Performance dates / times:
Thurs 28 July 7.30pm
Fri 29 July 7.30pm
Sat 30 July 7.30pm
Sun 31 July 6.30pm*
Ticket prices:
Full: $38
Concession/student: $32
Booking details: www.thestreet.org.au / 6247 1223
More information: www.aitc.org.au