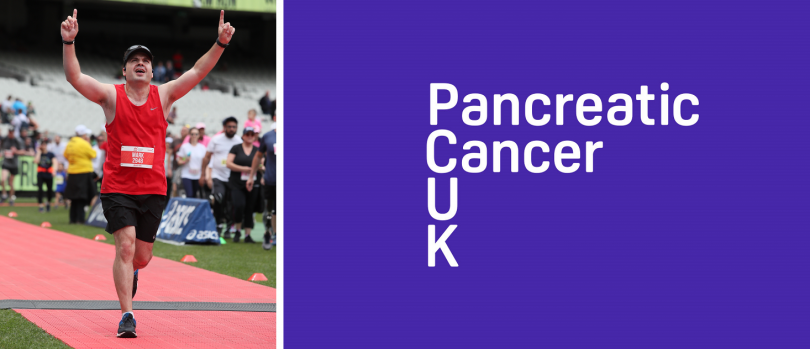 In March this year it was announced that Mark from My Gungahlin would be Running Berlin Marathon 2020 for Pancreatic Cancer UK in honour of his step-father who passed away last year from pancreatic cancer and fundraise in his memory.
As the first anniversary of his step-fathers passing quickly approaches, this week the Berlin Senate on April 21, 2020 announced that all events with more than 5,000 persons will be prohibited until October 24, 2020. Unfortunately, this also applies to the BMW BERLIN-MARATHON, which cannot now take place on September 27, 2020, as planned. Whilst this is disappointing for Mark it is also understandable in the current circumstances. Mark has confirmed he will continue to stay focused, motivated, train and take part in the Melbourne Marathon on the 4th October 2020 if it goes ahead. If the Melbourne Marathon does not go ahead on this date he will run a solo marathon by completing laps of Yerrabi Pond on September 27th, 2020. Mark is working with Pancreatic Cancer UK to see if his charity runner entry can be deferred to 2021, fingers crossed.
In July 2018 Mark's step-father, John was diagnosed with pancreatic cancer which was devastating news to the whole family. They hoped through surgery the affected part of his pancreas could be removed, however the cancer had already spread and surgery was not possible. John did undergo chemotherapy, however when this affected his quality of life too much he stopped this to enjoy his remaining days as much as he could. In April 2019 early one morning John passed away in the arms of Mark's mother at Yass District Hospital. A loving husband, father and grandfather taken from this family all too soon. As a fit, healthy and strong man everyone expected John to be here for many more years to see his grandchildren grow and prosper.
Mark first started running by regularly attending the local 5km Gungahlin parkrun in 2015 and over the years has increased the distance to continue challenging himself. In 2016 he took on his first 10km event and later that year completed his first 14km event at City2Surf. Since 2017 Mark has completed 10 half marathons and in October 2019 completed his first full marathon in Melbourne.
"I knew the Melbourne Marathon was going to be tough and hurt but wow, that was TOUGH and HURT a lot! It was only a couple of weeks prior that I was invited to run the BMW Berlin Marathon in 2020 as a charity runner for Pancreatic Cancer UK. After completing Melbourne Marathon I admit I told my wife that I didn't think I could do another marathon, including Berlin. After reflection I realised just how much John had fought and suffered for months to live as long as he could for us. I can suffer for a couple of hours and raise some money for research into this cancer in honour and memory of him."
Mark has been fundraising for a variety of causes over the years firstly supporting Juvenile Diabetes Research Foundation (JDRF) through the Jump For a Cure skydiving challenge on three occasions and Dainere's Rainbow Brain Tumour Research Fund through the City Run Series and City2Surf for the last three years. This is the first fundraising cause that Mark has a personal connection to and hopes this to be the largest fundraising effort to date. Mark's City2Surf 2019 fundraising campaign for Dainere's Rainbow is the largest campaign to date with $3,049.35 raised.
Despite being unable to take part in the Berlin Marathon this year as planned, Mark's marathon and fundraising campaign continues. The money raised through this cause goes to Pancreatic Cancer UK for information, support, research, policy and campaigning for pancreatic cancer.
"I have been proud to be able to use the My Gungahlin platform to be able to help make a difference in a number of fundraising activities and even support other people's fundraising. I always hope that the money I have helped raise makes a difference in all these causes. I hope the community can get behind me once again with this challenge. If each of the 22,400+ My Gungahlin Facebook followers donated just $2 each, this could be huge!"
You can support this fundraiser by buying tickets in the Need for Speed raffle. In this raffle, prizes include driving a V8 race car at Sydney Motorsport Park, reach over 200km/h skydiving over Canberra from 15,000 feet and a B737 Jet Flight Simulator experience.
By purchasing tickets in this raffle you not only have the chance to win 1 of these 3 amazing prizes but you are supporting Mark's fundraiser for Pancreatic Cancer UK. Tickets are just $10 each and you can buy them here: https://www.raffletix.com.au/needforspeed By buying at least one ticket you will also receive a My Gungahlin pen, sticker and fridge magnet as a token of appreciation.
Join us at Eastlake Gungahlin on Friday 12th June for the prize draw https://www.facebook.com/events/2696580653744860/
Alternatively you can donate straight to the fundraising donation page. Please note, as this is a UK based charity donations here are not tax deductible in Australia. You are donating in Pound Sterling so please note current exchange rates (£1 is just under $2 at current exchange rates) and your bank may charge additional fees for overseas payments. Please don't let this stop you supporting my challenge. Please donate or share my fundraising page: Virgin Money Giving – Berlin Marathon, Mark Scarborough
As part of his training Mark is also running 145km around Canberra on the Centenary Trail over seven stages. You can find blog articles of this journey on the My Gungahlin website as well.
Pancreatic cancer is the deadliest common cancer, with the lowest survival of all common cancers. Pancreatic cancer can be difficult to diagnose. This is because it doesn't usually cause many specific symptoms in the early stages, and symptoms can be quite vague.
Symptoms of pancreatic cancer may include:
Symptoms vary in different people and you may not have all of these symptoms. If you have jaundice, visit your GP without delay. If you have any of the other symptoms, you don't know why you have them, and they last four weeks or more, visit your GP.