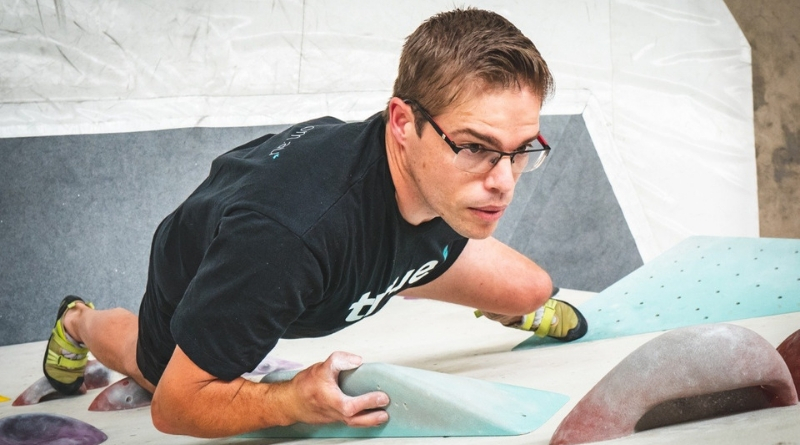 Mark Altmann, a Paralympic swimming champion and nationally competitive para climber, is one of determination and perseverance. Born with a disability, Mark overcame adversity from a young age through his love of sport. With Bronze Medal success in the 2000 Sydney Paralympics, Mark has since set his sights high on his newfound love of climbing. Whilst bouldering with one arm may seem impossible to most, Mark has proven time and again that no challenge is too great for him.
This year Mark has qualified to represent Australia internationally as the First Australian Paraclimber in Australian history. Mark shared "I am a strong, motivated and determined Adaptive Athlete and I am seeking your help. I am a Paralympic medalist, an Australia Day Ambassador and now I am honored to be Australia's First Paraclimber to be announced on the new Australian Paraclimbing Team.
"Allowing me the opportunity to be the first ever Paraclimber in our country's history to represent Australia on the world stage of Paraclimbing."
However, there is currently no funding in Australia for supporting Paraclimbing athletes. Let alone climbing athletes in general. Mark is seeking help to cover costs for competing overseas. Such as accommodation, registration and flights to travel to the international Paraclimbing events on offer this year. In June, Mark will go to Innsbruck, Austria to compete in the Paraclimbing Masters. Followed by the Paraclimbing World Championships at Briançon, France in July.
"I am the current Australian Paraclimbing Bouldering Champion and I am ready to take on the world. As Australia's first Paraclimber I hope to motivate and encourage other adaptive athletes in Australia to take up the amazing sport of rock climbing I want to see our Australian Paraclimbing team grow."
If you would like to be involved in making Australian history please help by making a donation, every dollar counts! Thank you and feel free to check out his recently released story below. And please follow his journey @aussie.paraclimber on Instagram.
You can find out more about Mark's story below or read his story here: True Stories: Against All Odds