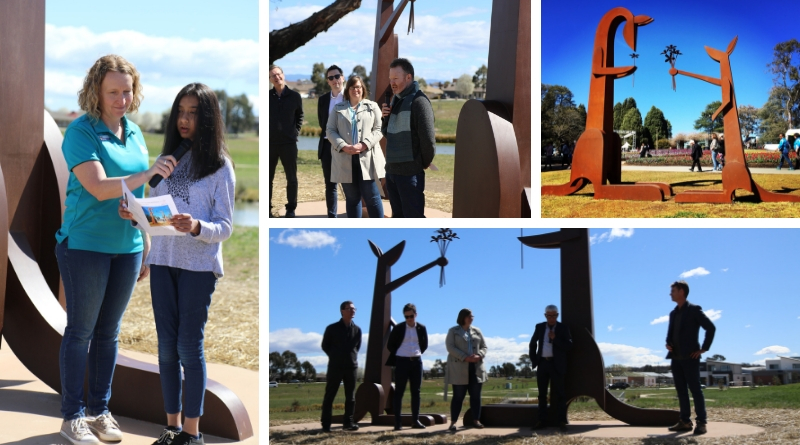 The much-loved sculpture of a kangaroo and joey, commissioned by the ACT Government for the 30th anniversary of Floriade last year, has found its new home.
Today Joey Park in Throsby was officially opened at an event for Throsby residents to enjoy a picnic, games and music. At the event two large Corten Steel Kangaroo sculptures "Stopping to smell the Flowers" was also launched. The sculpture, created by artist Jimmy Rix was first seen at Floriade last year and has been fittingly installed in Throsby.
The sculpture, titled Stopping to Smell the Flowers, by artist Jimmy Rix has been permanently installed in the new recreational park on Bettong Avenue, Throsby. The award winning park has been officially named 'Joey Park' in recognition of the new artwork's arrival.
"The inclusion of this artwork has been a collaboration between arts ACT and the Suburban Land Agency, with the sculptures inspiring the park name 'Joey Park'," said Suzanne Orr MLA representing the Minister for Housing and Suburban Development at the event.
"The Joey Park Housewarming Picnic today hosted by the Suburban Land Agency's Mingle team marks the welcome of the artwork to Throsby with many local families here to enjoy the new park and connect with their neighbours," Ms Orr said.
After being exhibited at Floriade last year a permanent home for the artwork needed to be found. The Minister for the Arts and Cultural Events Gordon Ramsay said the community of Throsby seemed like the right location for the work.
"As one of Canberra's newest suburbs, it is an ideal place to include a public artwork that will be one of the local residents from the start," Minister Ramsay said.
"Joey Park is a fitting location with its proximity to both Mulligans Flat and Goorooyarroo Nature Reserves. The area is already home to many kangaroos and other Australian mammals," Minister Ramsay said.
"The kangaroos will be very much at home in this natural environment, standing amongst established gumtrees, and close to the playground where children and their families can enjoy the artwork.
Artist Jimmy Rix has been a sculptor for 23 years and his public artworks are in collections across Australia, including in Perth, Sydney and Bowral. Stopping to Smell the Flowers is his first work to be permanently installed in Canberra.
Stopping to Smell the Flowers – Arrangements of flowers witness the most important and special moments of our lives. They help us congratulate, thank, celebrate, mourn, decorate and mark milestones. They are also a simple and beautiful wat to show adoration. This intimate exchange represents a universal way to express love.
Local resident Emaan Khalique read a story she wrote about the kangaroos in the sculpture and how they arrived at Floriade and subsequently came to call Throsby their home.
Joey Park, Throsby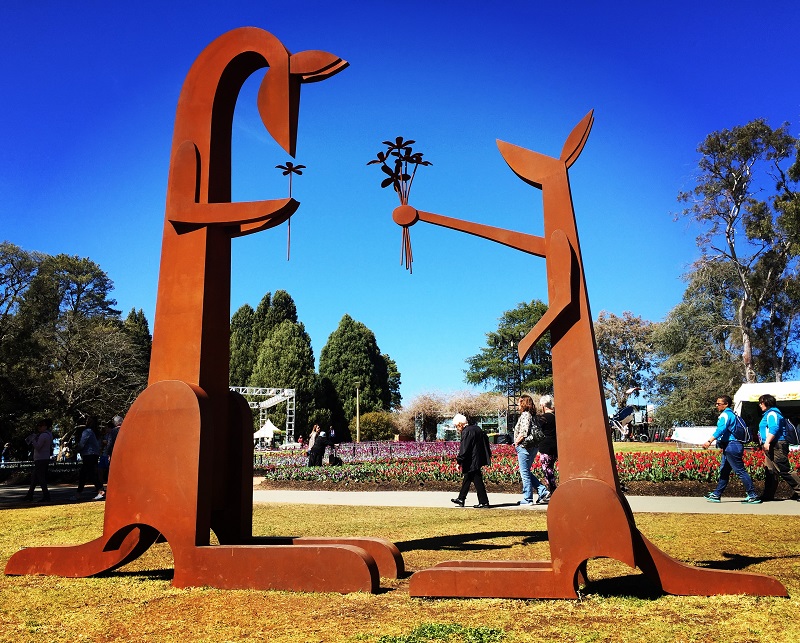 Stopping to Smell the Flowers Floriade 2017