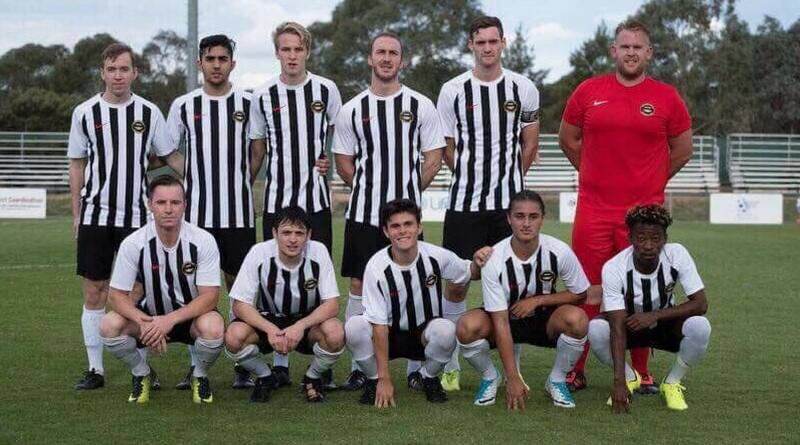 It shapes as one of the most important games in the history of the Gungahlin United Football Club.
Not only is this Saturday's Federation Cup final a chance for Gungahlin United to snare another piece of silverware, it could also be a stepping stone to the big stage.
The winner of Saturday's match will take home more than a trophy and bragging rights, they'll also earn a coveted spot in the FFA Cup round of 32 – a national competition featuring the best clubs from across the country.
Gungahlin has been there before. In 2015 it made it through, but was knocked out in its first match by Sydney Olympic.
But previous Canberra sides to go deeper into the competition, Canberra Olympic and Tuggeranong United, have had the opportunity to play against A-League sides in matches televised on national TV.
It's that sort of opportunity that Gungahlin head coach Marcial Munoz has in the back of his mind–but he's not getting ahead of himself.
"Firstly, we need to play [Saturday's] game and not think about what could happen before time," Munoz says.
"It would be irresponsible of us to think ahead of time, we must ensure we prepare well and stay focused before we think about what could be next."
Gungahlin's opponent on Saturday, Canberra FC, is in good form and will provide Munoz's side with its sternest test of the season so far.
"They have had a great start to the season and playing really well. We will have to make sure that we concentrate for the full match if we are going to have a chance of beating them," Munoz admits.
Gungahlin United skipper Jack Green will be one of the keys to the side progressing.
The ACT Academy of Sport and AIS product has played for the Western Sydney Wanderers youth team and captained Canberra United at youth level.
Green is just one of many talented players in the Gungahlin squad, which also includes Australian Under 17s representatives James Fletcher and Ben Obst, US scholarship player Josh Gaspari, and experienced goal-keeper Jason Denham.
But its Gungahlin's depth and spread of contributors which Munoz believes will be crucial on Saturday.
"At this stage we are very happy with all the players and the way they have been performing. It is very difficult to single any player out as it is a culmination of the collective work."
Munoz also admits the crowd will play a role and is encouraging Gungahlin United fans to pack the stands this weekend.
"Our players are exceptional athletes, but more importantly, they are amazing people and our football community should be proud of the people we have representing Gungahlin.
"I have no doubt that they will leave everything on the field come Saturday, to ensure that we make all our fans extremely proud and, with a bit of luck, bring back the Cup."
The 2018 Federation Cup/FFA Cup Qualifying Final between Gungahlin United and Canberra FC will be held on Saturday, 16 June at 5pm at Woden Park.
Admission is $5 Adults, $2 Concessions