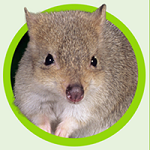 Minister for Territory and Municipal Services, Shane Rattenbury, today announced $900,000 from the 2015/16 Budget will help to kick start a new campaign to support the continued recovery of the eastern bettong in the region.
"The Bettong Bungalow campaign aims to raise funds to help fund an expansion of the Mulligans Flat Woodland Sanctuary, where the species has been successfully reintroduced into the ACT," Mr Rattenbury said.
"The ACT Government has committed $900,000 from the recent budget as seed funding for the expansion project and we are encouraging Canberrans to get behind the campaign and donate.
"Today, to coincide with World Environment Day, we launched a campaign that tells the story of Brian and Betty Bettong and their family's return to the mainland.
"Tens of thousands of bettongs once hopped around our region but the introduction of pest species such as foxes saw the bettong become extinct on the mainland of Australia for almost 100 years. The successful repopulation of bettongs at Mulligans Flat is the start of the journey to recover them on the mainland of Australia.
"The Sanctuary has a predator-proof fence covering 485 hectares of the Mulligans Flat nature reserve. The campaign aims to raise the profile of the existing success of the Sanctuary and attract new funding to expand it to over 1400 hectares. This extra space will give bettongs more space to live and breed, meaning a greater number of them, and their woodland species counter-parts, can be supported.
"Bettongs were reintroduced to the ACT from Tasmania in 2011-12 as part of a joint project run by the Australian National University, CSIRO, the Tasmanian Government, the Woodlands and Wetlands Trust, and the ACT Government.
"The Mulligans Flat Sanctuary is now the only place in the world outside Tasmania where the bettong can be found in its natural habitat. At last count there were over 200 bettongs at Mulligans Flat. This is an encouraging start to their reintroduction to the mainland.
"This is the first major fundraising initiative of the Woodlands and Wetlands Trust and a great opportunity for the community and corporate partners to support this nationally significant biodiversity asset in the ACT."
Members of the community and corporate sponsors can get more information, and follow the trials and tribulations of Brian and Betty at bettongbungalow.org and www.facebook.com/brianbettong