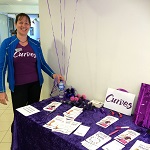 Absolutely Happy By Tania Schrattenholz. Fun, fit and fifty, Swiss-born Raffy Borg is always active. Never frantically busy, just always doing something or spending time with someone.
This love of activity and people are a perfect mix if you also happen to be the owner of a lively women's fitness centre, Curves Gungahlin.
Raffy's friendly, life-loving attitude has inspired many to get fit and lose weight. "When she walks in (to Curves)…she adds a spark to the day," says Curves member, Trish.
Raffy grew up in Grengiols, a little village in south Switzerland with a population of about 500, with her parents, two brothers and two sisters.
Raffy loved talking to everyone in her village, neighbours and visitors alike.
"I'm a people person. I love the contact with other people. I have been driven from a young age, 12, 13 onwards, to learn other languages so I could speak to other people." says Raffy about her childhood. "My mother used to say, 'you have too many friends,' but I never listened."
She had an active lifestyle as a child and teenager, but not in the way we know today with sports games and dance classes.
Her parents had no car, seeing no need for one in such a small village. She remembers her father saying, "Don't waste your time and money, it's not necessary." Consequently, Raffy walked everywhere – to school, the shop and her grandparents' house.
At school there was a gymnastics class once or twice a week and an occasional sports day: swimming in summer and skiing in winter.
"Working on the field for Grandad with a few cows was a lot more physical work. Working in the garden at home having to help pick up the branches Dad cut off once a year. Helping with the garden was more the activities we did," she reminisces.
In winter Raffy and her siblings had the perfect ski slope just outside their front door. They spent hours every day skiing and tobogganing until their mother called them in for dinner.
Much as she loved, and still loves, the people in her village, her inner desire to meet new people and experience new things urged her to leave.
At the age of 16 she moved to Bern, nearly one-and-a-half hours north of her hometown, to work and then to Lausanne learn French.
It was during her time in Lausanne that Raffy was able to explore more adventurous activities like kayaking and paragliding. Paragliding in winter, with skis, was a favourite for Raffy. She found it easier than in summer when taking off and landing requires running.
It was in Lausanne, at French class, that Raffy met Australian physicist, Gerard. They married in 1991 and then moved to Canberra so Gerard could take up a research position at the Australian National University.
Before long, Raffy had the Australian dream: a large house with a big backyard. However, she soon became bored.
A series of part-time jobs enabled her to fulfill her desire to meet new people while still being there for her two young daughters. These periods of work were interspersed with time spent renovating her home, doing a lot of the work herself.
One day, during a time when she had no work, her neighbour "dragged" her to Curves in Macquarie. In spite of her declaration that Curves was "for old women," Raffy found that she thoroughly enjoyed the experience and decided to join. That day changed Raffy's life and she has never looked back.
Deciding very quickly that she would like to work at Curves, Raffy spoke to the owner about the possibility. In only two months she was a member of staff.
Raffy relished being in a job where she could, once again, help people. Her positive attitude prompted one Curves member to ask Raffy if she owned the club. She replied, "No, but I behave as if I did."
Within a year she had played a major role in starting Curves in Gungahlin, becoming the new franchisee of that club less than 18 months later in July 2012. In two-and-a-half years, Raffy had transformed from gym skeptic to gym owner.
Nowadays, seeing Raffy in gym clothes is nothing unusual. They are her workout clothes and her work clothes. "I am absolutely happy with my choice," declares Raffy when asked how she feels about her way of life.
It seems like a long journey from Swiss village girl to successful business owner. Look a little closer and you will see that Raffy's active, people loving soul is much the same. Canberra and Curves have become her new community, her new village.
---
---
The views and opinions expressed in this post are soley those of the original author. These views and opinions do not necessarily represent those of My Gungahlin.
---
---
Do you want to feature on My Gungahlin? We're looking for new stories from you! Send us a story (300-500 words) with photos about everything from:
Gungahlin news
Gungahlin history
Gungahlin reviews
Gungahlin sports results
Your Gungahlin story
And whatever else you think would be relevant. Send your stories to [email protected]and we will let you know when we can publish your story!
My Gungahlin reserves the right to determine suitability. Please contact us to discuss promoting for business.