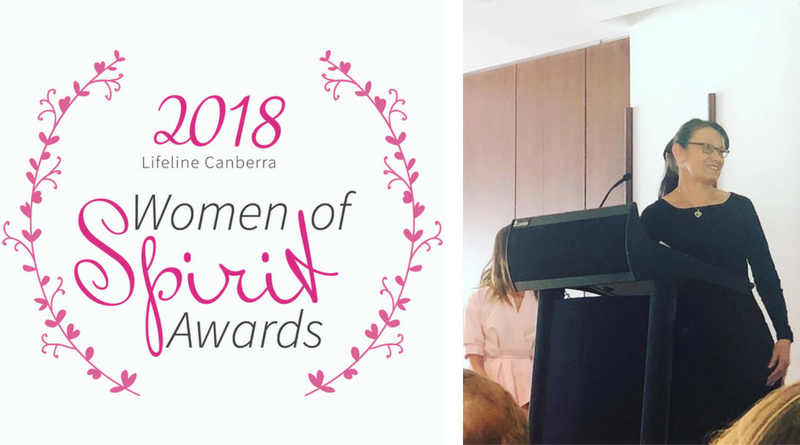 Each year, Lifeline Canberra recognises inspirational women in our community; women who have triumphed over adversity, who give back to the community and inspire others to do the same.
The Women of Spirit Awards is one small way to thank these incredible women and remind them how special they are.
The 2018 Woman of Spirit Award recipient was awarded to local Gungahlin mum Yvonne Anthoney for her tireless work for Dainere's Rainbow Brain Tumour Research Fund.
After receiving the award Yvonne shared "Feeling so extremely honoured, humbled, proud and a little overwhelmed, to stand alongside the other finalists who are all women in this Community who truly epitomise what a women of spirit is, congratulations and love to all of them. With most heartfelt gratitude to all at Lifeline Canberra for recognising the selfless and extraordinary work of such amazing women who are making an amazing difference to the lives of others in our Community and beyond."
Dainere's Rainbow Brain Tumour Research Fund was established in memory of and as a legacy to Dainere in conjunction with The Sydney Children's Hospital Foundation to support the research of the devoted Dr David Ziegler and his team who are working towards improving the outcomes for all children diagnosed with brain tumours; through a comprehensive research program in the laboratory that stretches from investigating the basic biology and genetics of childhood brain tumours, identifying agents that induce a profound anti-tumour effect, safer treatment options, the implementation of novel treatment strategies in state of the art clinical trials, innovative personalised medicine, collaborations with local, national and international groups and ultimately find a cure.
Every child deserves a future and the sole way to see an increase in survival rates for paediatric brain tumours can only come through a dramatic increase in research capacity. Dainere's Rainbow Brain Tumour Research Fund is a not for profit fund and 100% of all funds donated or raised go to research.
For more information on how Dainere's Rainbow Brain Tumour Research fund and how you can support this cause please visit http://www.daineresrainbow.com.au/