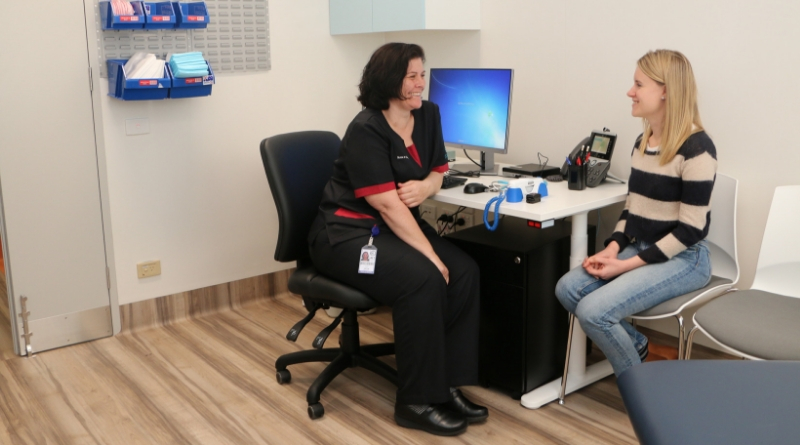 Have you checked out Gungahlin's new Walk-in Centre yet?
The Walk-in Centre, which opened in September, offers free treatment of minor injuries and illnesses.
Over 1300 people visited the Gungahlin Walk-in Centre in its first month of operation, for conditions ranging from common colds, burns, lacerations, skin conditions, gastrointestinal problems and ear conditions.
According to Clinical Nurse Manager, Lucy Taylor, a typical day at the Gungahlin Walk-in Centre can be as varied as the conditions they treat: 'people have come to see us with minor limb fractures, sprains, tonsillitis and hay fever.
'We also provide services such as wound dressings, ear wax removal and removal of stitches and staples. Patients are sometimes surprised to hear that we can also supply some medications, including emergency contraception and antibiotics for things like tonsillitis and mastitis.'
Lucy says the response to the Walk-in Centre's opening hours – 7.30am to 10pm every day of the year – has been positive.
'Gungahlin is full of working people and families with busy lives, so patients appreciate getting high quality care at a time that suits them. Others have told us they're happy they don't have to travel too far from home for treatment.'
While the Walk-in Centre has proven popular with many in Gungahlin, children under 2 years old and those with complex medical conditions should see their GP instead.
So next time you need treatment for a minor injury or illness, head to the Walk-in Centre at 57 Ernest Cavanagh Street, Gungahlin. It's free, open from 7.30am until 10pm every day on the year (including Christmas Day and all other public holidays) and you don't need an appointment – just walk in!
For more information please see health.act.gov.au/our-services/walk-centre/
Gungahlin Walk-in Centre is located at 57 Ernest Cavanagh Street, Gungahlin.