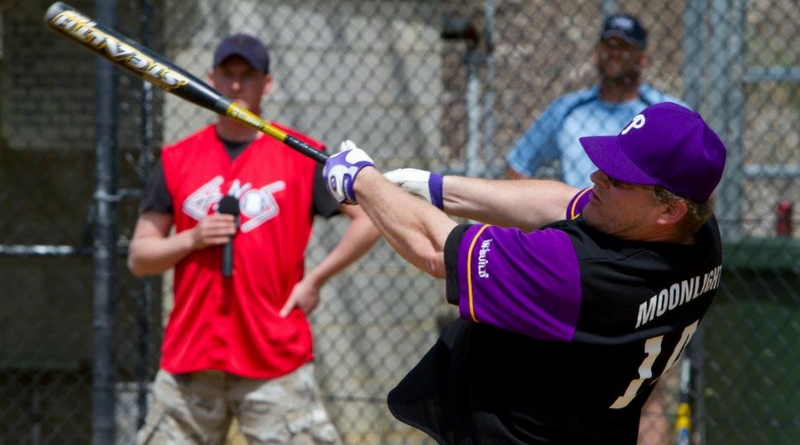 Last month we reported on Local Gungahlin resident Jannette Cass-Dunbar busily organising the 10th Annual Tainn Hunter Classic Slowpitch Tournament.
The 10th Annual Tainn Hunter Classic Charity Softball Tournament was again a success, raising $11,500 for Ronald McDonald House Charities, Telstra Child Flight and the Hunter Medical Research Institute. This event has now raised over $88,000 since its inception in 2003.
Softball ACT donated the use of the diamonds at the Hawker International Softball Complex for the tournament, which attracted 6 local and 4 interstate teams. The event ran over three days and included a 'home run derby', a pitching contest and a silent auction, as well as some great softball with very close games all the way through the tournament.
The division grand final results were:
Div 1 – Sydney Deadstars (Sydney) 20 defeated I'd Hit That (Canberra) 15
Div 2 – Riff Raff (Bega) 14 defeated Training Cones (Canberra) 9.
Div 3 – Strikers (Canberra) 9 defeated Wombats (Sydney) 0
After a mascot challenge between Brumby Jack, Hogster from Hogs Breath Cafe and Pelly from Telstra Child Flight, the Home Run Derby winners were Todd Nicholls / Tom Mackean jointly (both Sydney Deadstars) and Kaye Jenson (Bega Riff Raff). Pitching contest winners were Michael Hill (Rough Chuggers) and Steph Robertson (Training Cones) both from Canberra.
The money raised is greatly appreciated by the recipient charities and is used to help with running costs and other projects.
The money donated to Telstra Child Flight will be contributed towards the charity's aircraft maintenance costs, specifically the purchase of helicopter engine parts called "Governors" for each of Child Flight's two aircraft. The Governor controls fuel delivery to the engine so that the engine is able to maintain rotor rpm 100% of the time at 384 rpm. The "Governor" allows the engine to schedule the right amount of fuel at all times.
The Hunter Medical Research Institute puts the money raised from the Tainn Hunter Classic each year towards a grant for research into premature births and Ronald McDonald House Charities allocates the funds to the soon to be opened Ronald McDonald House and the existing Ronald McDonald Family Room within The Canberra Hospital to assist seriously ill children and their families.
The Tainn Hunter Classic recognises the many generous sponsors, dedicated volunteers, players and officials and other supporters who helped make the event a success. A big thank you to all the sponsors and supporters of the event.
About the Tainn Hunter Classic:
The Tainn Hunter Classic is an annual mixed slowpitch tournament that donates all proceeds to Ronald McDonald House Charities, Telstra Childflight and the Hunter Medical Research Institute. The event is named in memory of Tainn Hunter Cass-Dunbar who was born prematurely at 24 weeks and died after 53 days. The tournament's aim is to support the charities that provided him with such wonderful support and which continue to assist families and babies who are sick.