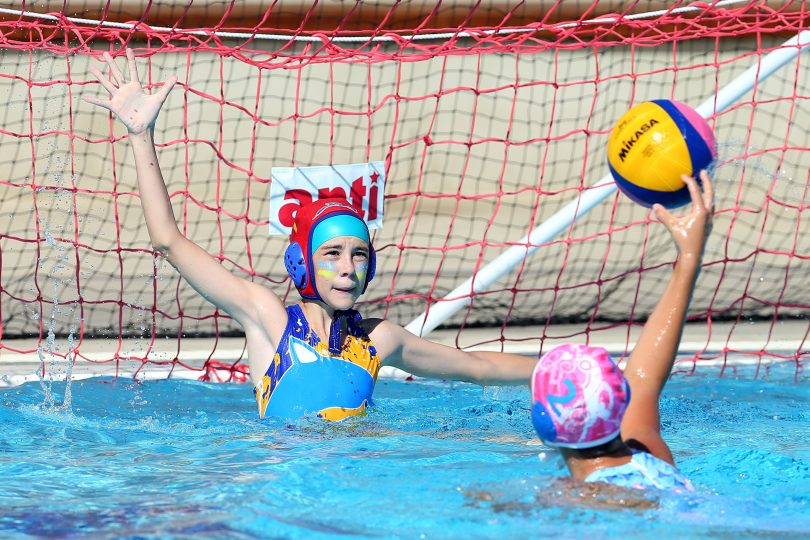 In a week, 13-year-old goalkeeper, Sophie Zatschler will head to Brisbane to represent the ACT for the second time at the 2019 Australian Youth Water Polo Championships.
However, the road to representation hasn't been an easy one for Sophie. A year ago, she narrowly missed out on selection in the 14 & Under team for the NSW State Championships, but the disappointment wasn't going to get in her way, with Sophie determined to be in the team for the 2018 National Championships.
"Not being selected was disappointing, but I spoke to my coach about what I needed to do and I did it," Sophie said.
"I was training four times a week, with the team and with my club, as well as doing my own strength and conditioning work to make sure my coach knew how much I wanted to go to Nationals and how much it meant to me, it was the best day when I was told I made the team!"
Sophie competed at the 2018 Nationals as one of the youngest goalkeepers at the tournament, she will now go to Brisbane as one of the more experienced players.
Sophie began playing water polo three years ago as a way to keep up her swimming skills after completing the swim program at Aquatots Swim School.
Joining the Gungahlin Dragons Water Polo Club, Sophie has moved from being a field player to a goalkeeper after noticing that not many players really wanted to play in goals.
"The goalkeeper position kept on being rotated around players and no one really liked it, but I thought why not give it a try," Sophie said
"It isn't an easy position, I have to tread water while having to jump for the ball to stop it getting in the goal. There is a lot of training to make sure my legs are strong, but I am lucky because my coaches give me drills to make sure I am able to get out of the water to save the goal!"
After the Australian Youth Water Polo Championships, Sophie will return to training with the Gungahlin Dragons to prepare for the remainder of the summer season and hopefully defend the 14&Under ACT Championship title the team won last season.
"It would be great to go back-to-back, there is a lot of competition this year so it will be a challenge, but my team is working really hard to win."
The Gungahlin Dragons Water Polo Club welcomes players of all ages and abilities. Information can be found on the club's website: https://www.sporty.com.au/gungahlindragonswaterpolo or Facebook page https://www.facebook.com/DragonsWPClubACT/.
The club is also holding a free Come Try session on Sunday 13 January for boys and girls aged 7-14 years at Gungahlin Leisure Centre from 3-4.30pm.