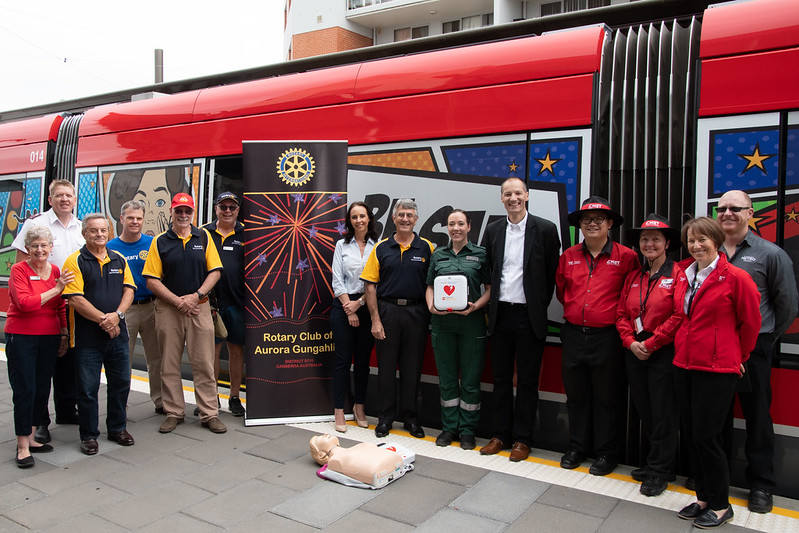 Canberra's light rail fleet now has a defibrillator on all of its vehicles, ready if needed to help save lives.
"We are proud to partner with the Rotary Club of Aurora Gungahlin who has funded this wonderful initiative," Canberra Metro Operations, General Manager Mr Tilo Franz said.
"The portable defibrillators will be placed securely in the driver cabins of the light rail fleet, with drivers and customer service officers ready to use them should urgent medical assistance be needed.
"Passengers on board can press any of the eight Emergency Help Points on the light rail vehicles to access a defibrillator. The defibrillators can assist with survival rates in a cardiac arrest until the arrival of the ACT Ambulance Service.
"The key to improving survival rates of sudden cardiac arrest is to apply defibrillation in the first three minutes," Mr Franz said.
The funding of nearly $60,000 for this initiative was provided entirely by The Rotary Club of Aurora Gungahlin. All light rail drivers and Customer Service Officers are first aid trained and will be able to operate the units.
St John Ambulance will also help to maintain each of the defibrillator units to ensure they are in peak working order ready to be activated in a medical emergency.
As well as launching the defibrillator units, Canberra Metro Operations also announced two opportunities for light rail customers to get a first-hand look at how to operate the units.