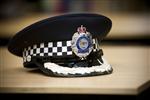 ACT Policing is geared up and ready for a weekend for the whole family at the 2014 Multicultural Festival (Saturday 8 to Sunday 9 February).
The ACT Policing display will feature furry crime-fighting Constable Kenny Koala, a Specialist Response Group display, a water jet-ski, traffic motorcycles and the beautiful and friendly police dogs.
Officer-in-Charge of Crime Reduction Sergeant Harry Hains said the event will be a way for police to engage with the members of the cultural diverse Canberra community in a relaxed and informal setting.
"Police have found that for some migrants and refugees, having an open and informal relationship with law enforcement officers does not come easily as past experiences in other countries may lead them to see police as unapproachable," Sergeant Hains said.
"As long-time supporters and sponsors of the festival, we look forward to this annual opportunity to connect with the local community and help them to see their police as both trustworthy and accessible."
The ACT Policing members at the stall will also be able to provide information on who to call in an emergency as well as how to avoid being a victim of scams.
"It's important that members of our community who are not fluent in English know who to call in a time of need. We'll be handing out handy pocket guides with contact numbers for local emergency and translation services."
With $3.2 million lost to scams by victims in the ACT during the 2012-13 financial year, ACT Policing will also be handing out pocket guides with information about how to identify different types of scams.
"For people from non-English-speaking backgrounds, identifying a scam and avoiding it can be difficult. Our pocket guides aim to help members of the Canberra multicultural community protect themselves against scammers," Sergeant Hains said.
The ACT Policing stall at the Multicultural Festival will be located in City Walk near the Canberra Centre entrance, opposite the fountain, and will be operating from 10am-6pm on Saturday and 10am-5pm on Sunday.