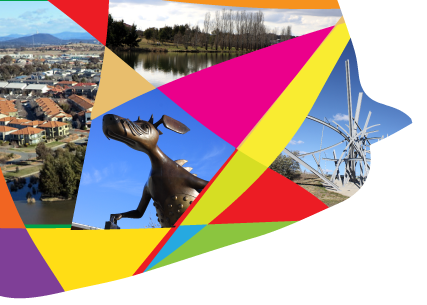 Three design options for a more people-friendly zone on Hibberson Street in Gungahlin were released today as part of a community consultation process.
"We would like local residents and traders to nominate their preferred design to make Hibberson Street between Gozzard Street and Gunghalin Place West more people-friendly," Minister Fitzharris said.
"A street that people want to spend time in, instead of just walk through, will foster a more comfortable, safe and vibrant space with greater potential for economic vitality in Canberra's fastest growing region.
"The first design option is based on the concept of a pedestrian mall and proposes the closure of Hibberson Street to traffic between Gozzard Street and Gungahlin Place West.
"The second design option is a one-way shared zone and proposes one-way traffic along Hibberson Street with a new 20 km/h speed limit. This option would include priority for pedestrians, slow points to reduce vehicle speed, and the redevelopment of existing verges. It would keep access to local businesses and ensure there is passive monitoring by passing traffic.
"The third design option is a two-way shared zone and proposes retaining two-way traffic along Hibberson Street and introducing a new 20 km/h speed limit. This option would provide priority for pedestrians while maintaining the two way flow of traffic through the area. It will also include slow points to reduce vehicle speed as well as the redevelopment of existing verges.
"Each of these designs would help create an active and attractive environment on Hibberson Street that fits in with other upcoming developments in the area, including the new bus station and light rail terminus.
"They also take on board feedback from a community survey I ran in mid 2015 as the local Gungahlin MLA, which asked people to have their say on how to make Hibberson Street more pedestrian and family friendly. "Over 700 responses were received, with most people saying they want to see the street made more people-friendly.
"Recent development in the Town Centre has seen more activity on Hibberson Street, but there will also be future changes with the first stage of light rail terminating in Hibberson Street, so I believe these factors should also be taken into account when we consider the future of this area.
"The ACT Government is committed to improving public transport and the connections to these services, with the majority of public transport journeys starting and ending with a walk or cycle.
"To provide feedback on which of the three designs you think would be most suitable for the area and why please complete an online survey at www.yoursay.act.gov.au or a hard copy survey at the Gungahlin Library.
"The three designs are also currently on display at the Gungahlin Library and The Marketplace until the end of consultation on 14 October 2016.
"The project team will also be available at The Marketplace to discuss the three designs at the following days/times:
Tuesday 6 September from 4pm – 5:30pm
Thursday 8 September from 4pm – 5:30pm
Come along and have your say on the future of Hibberson Street and how you would like it to look and feel," Minister Fitzharris concluded.