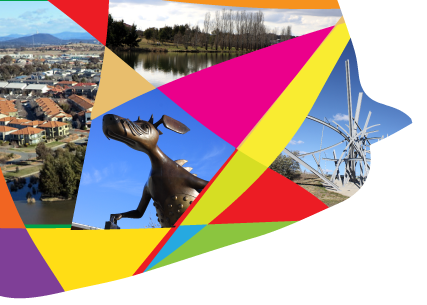 NBNCo have announced that the plan for Casey stage 1 has changed to the now-current NBN technology of Fibre to the Node (FTTN). This means from the node to the home will be on the existing copper network.
Transact fibre was rollout to Casey stage 2 (Springbank Rise), though stage 1 only ever received Telstra copper infrastructure. When the rest of Casey, and indeed Gungahlin was migrating to Fibre to the Home (FTTH) NBN, plans were drawn up for brownfield (existing suburbs), greenfield (new suburbs) and areas services by Transact. A small area in Casey – stage 1 – was overlooked in these plans.
This leaves 600 homes out of 27,000 in Gungahlin in digital limbo. It was not apparent until it was too late, and as such while the rest of Gungahlin now enjoy super-fast broadband, some Casey residents today are still stuck with painfully slow internet access.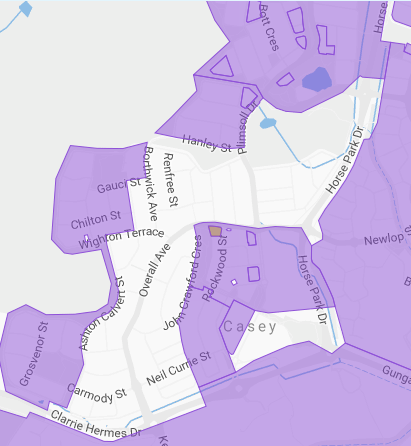 Unshaded area is Casey Stage 1 which will be on FTTN. Source: www.nbnco.com.au/learn-about-the-nbn/rollout-map.html
As a comparison, here is a speed test run on FTTH NBN and one run in Casey:

Casey Stage 1 ADSL2

Springbank Rise Casey NBN FTTH
Talking to one particular resident in Casey stage, the house they bought had an offer on it for $30,000 more than what they paid after that offer was withdrawn when that party discovered the home did not have access to NBN FTTH.
We believe it is unreasonable for this small pocket of homes to be on a different configuration to the rest of Gungahlin. This could have an impact on their home values and create a digital divide in Casey.
A spokesperson from Department of Communications and the Arts has advised residents can request for FTTH however this comes at the cost of the home owner. This spokesperson has also advised one factor in choosing how to conduct the roll-out the network in each area is 'reducing complexity by using consistent technology in an area and completing an area before moving onto more distant locations'. We are calling on NBNCo to recognise that the rest of Casey and Gungahlin is on FTTH and this small area in Casey should be provided the same technology to be consistent with the rest of Casey and Gungahlin.
If NBNCo do not come to the party for this small area there is the option for the ACT Government to fund an 'Area Switch' to ensure these residents are not disadvantaged on their Internet connection simply based on where they live.
After seeing success in other areas with this approach, a local independent candidate for the upcoming ACT election has decided to see what people power can do. You can find David Pollard at Casey Market Town collecting signatures and addresses to work on a solution to this problem. For times that you can find him, see his website or follow him on social media: Facebook or Twitter.
In this upcoming ACT Election we want to hear from the other candidates in the Yerrabi electorate what they will do on this issue.
If you are affected by this issue we recommend you email Senator Mitch Fifield [email protected] and include Shadow Minister for Communications Michelle Rowland MP [email protected], Senator Zed Seselja [email protected], Senator Katy Gallagher [email protected] and Dr Andrew Leigh MP [email protected]. Also make sure you are discussing this with candidates in the ACT Election when they come door knocking or you see them at the local shops.