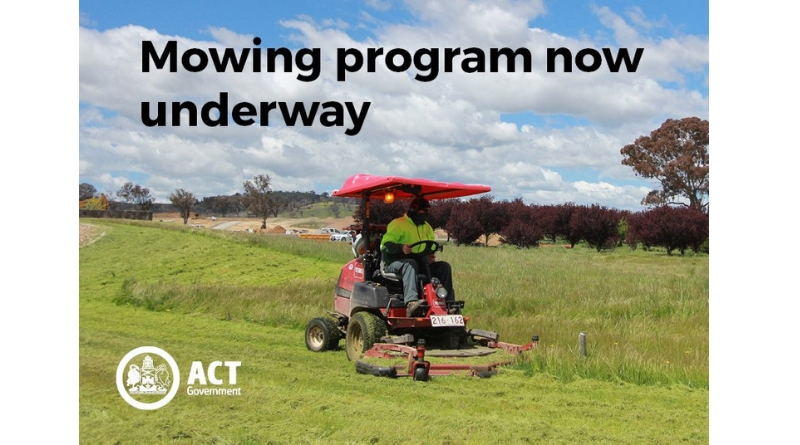 With festive celebrations over, mowing crews from Transport Canberra and City Services (TCCS) have this week returned to work to tackle the grass which has grown rapidly in recent weeks.
"The hot weather and rainfall in late 2018 has helped fuel grass growth across our city," Acting Director of City Presentation, Michael Brice said.
"In addition to the weekly mowing cycle and to help get on top of the excessive growth, we will have more than 25 mowers working overtime this Saturday and again the following Saturday. If the dry conditions continue, we expect to get on top of the recent growth in the coming weeks."
Crews are initially focussing their efforts around traffic intersections to help ensure safety for road users.
Other areas including parks and green spaces on shared paths are also being targeted as the mowing team works to get on top of the grass growth across the city.
"Of particular concern is the ongoing problem of African Lovegrass (ALG) which is the source of much of the long grass, particularly along main roads," Mr Brice said.
"ALG can grow very rapidly after being cut, particularly in response to rain and may throw seed heads as tall as 600 mm within 2 to 3 weeks giving affected parts of the city an untidy and unkempt appearance shortly after mowing.
"To help restrict the spread of ALG, strategies are being developed that include modified mowing practices and additional herbicide spraying, particularly adjacent to high value conservation areas. TCCS will be expanding the current program in areas that adjoin native grasslands and nature reserves, and will implement a reduction and containment program along main roads to help restrict the spread to non-infested areas.
"We are hopeful that our expanded containment program will, over time, work to reduce the opportunity for this weed to threaten our high value conservation areas and further extend into open space areas," Mr Brice concluded.
Contractors have commenced their third mowing cut of the season which will continue during January before the fourth mowing pass is started.