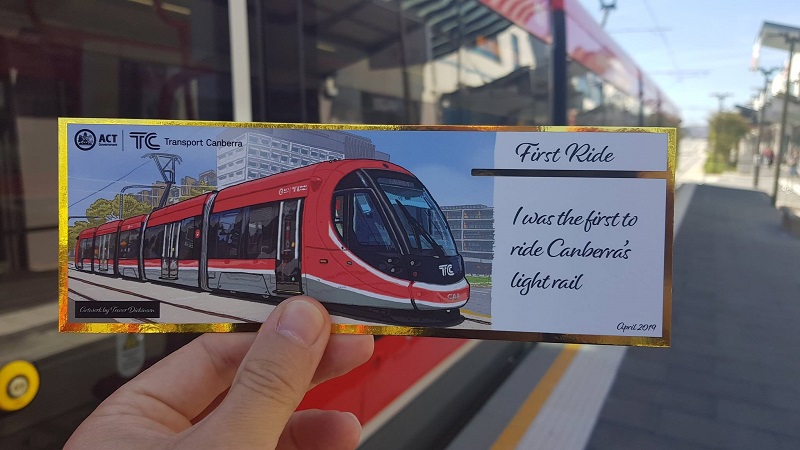 Light rail toasts 1 year of success
"Our city has been forever changed by frequent, reliable and comfortable mass transit in light rail," said Minister for Transport Chris Steel.
"Light rail has changed the way people view and use public transport with very high satisfaction levels and more people than ever using public transport in Canberra.
"Obviously COVID-19 has had a temporary impact on passenger numbers in the last few weeks, however, before the pandemic we were seeing, on average, 15,047 passenger boardings each day, numbers that we didn't expect until 2021."
According to the latest customer survey, 94 per cent of customers were satisfied with the ease of use of the light rail and it is now making up around 20 per cent of all public transport boardings (bus and light rail). Services had to be increased during peak times to manage the demand and crowding on vehicles in February.
"Light rail hasn't just benefited public transport users, it has reduced traffic on our roads with data showing up to a 20 per cent reduction in vehicles travelling along Northbourne Avenue during the morning peak period," Minister Steel said.
The busiest month in the first year of operations was May during the free travel period with over 460,000 customers travelling, followed by October 2019 with over 411,000 boardings.
The most frequented light rail stop was Alinga Street in the City with nearly 40 per cent of light rail trips commencing at that station.
"We are committed building on this success and extending the benefits of light rail to Woden which will create a north-south spine for the network," Minister Steel said.
Tilo Franz, the General Manager of Canberra Metro Operations thanked customers who use the light rail network.
"We are proud to operate a world-class light rail system for the nation's capital," Mr Franz said.
"From day one we exceeded passenger and ridership expectations. We're excited to celebrate one year of operation and look forward to many more years of success," Mr Franz said.