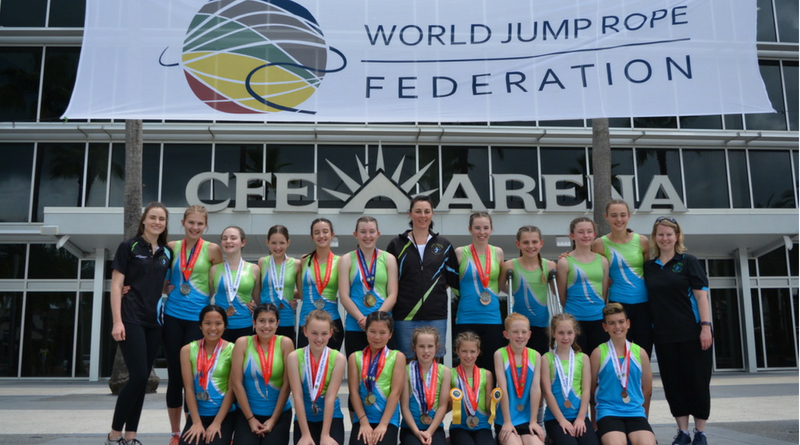 Canberra's own Jazzy JumpersRope Skipping Club, based in Amaroo, have victoriously returned from the World Jump Rope Championshipsheld in Orlando, Florida, USA last month.
Eighteen Jazzy Jumper athletesalong with their families and supporters travelled to Orlandolast month to compete in a number of different events in the weeklong competition run by World Jump Rope Federation. The Jazzy Jumpers made their mark on the International stage and brought home 21 medalsin total.
Most athletes competed in individual and team events ranging from speed (how many steps you do in 30 seconds and 3 minutes) to freestyle (including gymnastic movements choreographed to music whilst skipping) and double dutch (using two ropes at once and undertaking both speed and freestyle events).
The Juniors in the Club had some stand out performances winning GOLD in the following events:
Lilly Pickering (9Y/O) – Single Rope Freestyle – Junior Novice division 10 years &under.
Maverick Larkin & Tilly White (10Y/O) – Single Rope Freestyle Pair – Junior division 10 years & under.
Lilly Pickering and Lucy Ovington – Chinese Wheel -Junior division 10 years & under
MaverickLarkin&LucyOvington–DoubleUnders-Juniordivision10years&under
MaverickLarkin,LucyOvington,TillyWhyteandLillyPickering-SingleRopeFreestyleTeam – Junior Mixed 10 years & under
Senior skippers Kayley Simpsonand Ella Winstanleywon the Pair Freestyle Event for Senior 16 & Younger and placed in the Top 6 for all Pair Freestyle events which gave them entry into the prestigious "Grand Champion" event. The girls were the only Australian skippers to make it to the Grand Champion event and whilst they were the youngest in their respective event, they finished a very respectable 4th overall with only 0.7 of a point dividing GOLD and fourth place. They did Canberra proud as the competition was tough!
Please see below for a list of all medals earned. Jazzy Jumpers are very proud of all of the skippers and their achievements.
The Athletes are back in training trying some of the new tricks they learnt whilst away and gearing up for a World Qualifying year in 2019. They are also lined up to perform at local schools as part of the Jump Rope for Heart program and the upcoming Amaroo School fete in November.
We would welcome you to come and pay us a visit at anytime throughout the year. Please call Belinda Winstanley on 0402 005 262; Kirralee Larkin (Committee Member) on 0407 897 467 or Lisa Buchanan (Coach) on 0402 675 064 or email for any further information; [email protected]
Thanks for your time! We look forward to welcoming you.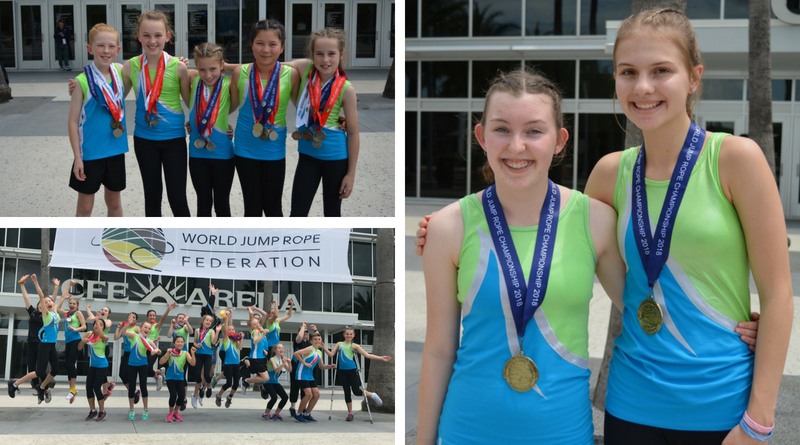 WORLD JUMP ROPE CHAMPIONSHIP 2018 RESULTS: JAZZY JUMPERS
MEDAL SUMMARY:
| | | | |
| --- | --- | --- | --- |
| 1. | 30 SEC Speed: Junior Female 11-12 years | Anabelle Julias | SILVER |
| 2. | 30 SEC Speed: Senior 16 & Younger | Kayley Simpson | BRONZE |
| 3. | DOUBLE UNDER PAIR: JUNIOR Mixed 10 years & under | Maverick Larkin & Lucy Ovington | GOLD |
| 4. | SINGLE ROPE SPEED RELAY: Junior Mixed 10 years & under | Maverick Larkin, Lilly Pickering, Tilly Whyte & Lucy Ovington | BRONZE |
| 5. | SINGLE ROPE SPEED RELAY: Senior Female 16 years & under | Ella Baric, Adrianna Tankovic, Kayley Simpson, Ella Winstanley | SILVER |
| 6. | DOUBLE DUTCH SPEED PAIR SPEED: Junior Mixed 10 years & under | Maverick Larkin, Kate Cheney & Lucy Ovington | SILVER |
| 7. | SINGLE ROPE FREESTYLE: Individual: NOVICE Junior Female 10 years and younger | Lilly Pickering | GOLD |
| 8. | SINGLE ROPE FREESTYLE: Individual: Junior Female 10 years and younger | Tilly Whyte | SILVER |
| 9. | SINGLE ROPE FREESTYLE: Individual: Senior Female 16 years and younger | Hayley Turner | SILVER |
| 10. | SINGLE ROPE FREESTYLE: PAIR Junior MIXED 10 years and younger | Tilly Whyte & Maverick Larkin | GOLD |
| 11. | SINGLE ROPE FREESTYLE: PAIR Junior Female 10 years and younger | Lilly Pickering & Lucy Ovington | SILVER |
| 12. | SINGLE ROPE FREESTYLE: PAIR Junior MIXED 11-12 years | Anabelle Julias & Joseph Tankovic | SILVER |
| 13. | SINGLE ROPE FREESTYLE: PAIR Senior Female 16 years | Ella Winstanley & Kayley Simpson | GOLD |
| 14. | SINGLE ROPE FREESTYLE: PAIR Senior Female 16 years | Hayley Turner & Hannah Bucklar | BRONZE |
| 15. | SINGLE ROPE FREESTYLE: TEAM Junior Mixed 10 years & younger | Maverick Larkin, Lucy Ovington, Lilly Pickering & Tilly Whyte | GOLD |
| 16. | SINGLE ROPE FREESTYLE: TEAM Junior FEMALE 11-12 years | Halle Baric, Kate Cheney, Grace Bucklar, Anabelle Julias | BRONZE |
| 17. | FREESTYLE: Chinese Wheel: Junior FEMALE 10 years & younger | Lilly Pickering & Lucy Ovington | GOLD |
| 18. | FREESTYLE: Chinese Wheel: Junior Mixed 10 years & younger | Maverick Larkin & Tilly Whyte | BRONZE |
| 19. | FREESTYLE: Chinese Wheel: Junior Mixed 11-12 years | Anabelle Julias & Joseph Tankovic | BRONZE |
| 20. | DOUBLE DUTCH SINGLE FREESTYLE: Junior Female 10 years & under | Kate Cheney, Lilly Pickering & Lucy Ovington | SILVER |
| 21. | DOUBLE DUTCH PAIR FREESTYLE: Senior Female 16 years and younger | Ella Winstanley, Hayley Turner, Kayley Simpson & Hannah Bucklar | SILVER |
TOTAL: GOLD:6 SILVER:9 BRONZE: 6