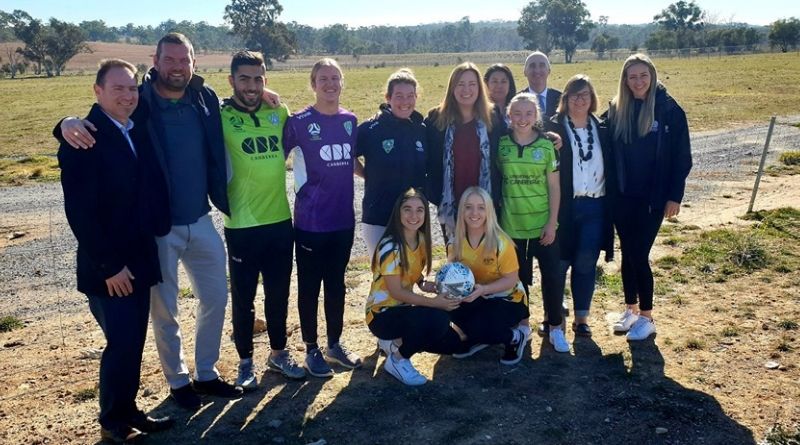 Canberra's 40,000 football players, together with the local Gungahlin community, will receive a boost with a new home of football precinct in Throsby.
The ACT Government has committed $20 million to deliver the facility for high performance and community players in partnership with Capital Football and the Football Federation of Australia (FFA).
Through this partnership, Capital Football will also contribute $4.5 million to the Home of Football, and in partnership with Football Federation Australia the Government will also bring three national team games to Canberra including both the Matildas and Socceroos.
Canberra is a sports loving city with a history of many athletes and teams achieving great things both nationally and internationally and football is the largest team sport in Canberra.
The new facility, to be located in Throsby, will include multiple outdoor football fields, indoor futsal courts, office space for Capital Football staff and associated amenities.
The Home of Football will be available to the entire Canberra football community and to local residents. The open space sportsgrounds will be available when not being used for formal games and training activities, delivering more green community space for Gungahlin.
As Canberra grows we are committed to delivering more sporting facilities. This facility, like others around Canberra, will provide an important community hub, encourage families to stay active and provide a place for young Canberrans to progress from grassroots to elite sport if that's their dream.
The ACT Government has also worked with other outdoor sports to develop a regional sportsground delivery strategy in Gungahlin which includes:
converting the Harrison District Playing Fields to two AFL fields once the new Home of Football has been built
continuing to build new facilities in Taylor for rugby union, rugby league and cricket with the first stage of the project nearing completion.
Fran Sankey, Chair of Capital Football said of this announcement, "This announcement represents a significant milestone for Capital Football and for football more broadly in the ACT. The Board has been working with the ACT Government to realise a priority in the Strategic Plan for 'new quality facilities for football and futsal'.
"It's an exciting announcement. It's reward for effort and a great example of what can be achieved by working in collaboration for mutual outcomes.
"The new Home of Football will support a range of community and high-performance programs, both male and female, while also supporting our coaches, referees, volunteers and administrators. Importantly, the facility will provide a range of outdoor football fields and indoor futsal courts to assist in meeting the ongoing growth requirements for our sport."
David Gallop, Chief Executive, Football Federation Australia, David Gallop said, "Football Federation Australia congratulates and thanks the ACT Government for this significant investment in football.
"This new facility will not only benefit the many thousands of football participants in the ACT, it has great significance at a national level, and will provide a state-of-the-art training base for our national teams, including the Westfield Matildas and the Caltex Socceroos."