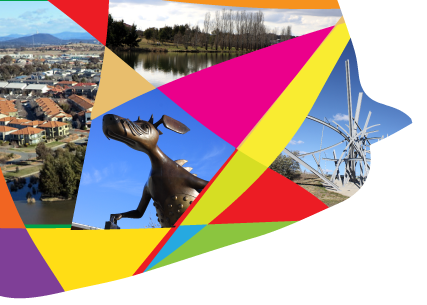 New outdoor fitness stations are planned for the north and southside of Canberra and Minister for Territory and Municipal Services, Shane Rattenbury, today invited the public to help design the new facilities.
"Yerrabi Pond District Park in Gungahlin and Eddison Park in Phillip will each receive new outdoor gyms, but the types of equipment they will include and where in the parks they will be located is yet to be decided," Mr Rattenbury said.
"We would like the community's input on what sort of equipment they would like for each of the new outdoor gyms, whether that be chin up bars, stationary bikes or leg press machine – we want you to help design your local gym.
"We are also seeking feedback on the sites proposed for the fitness stations within the parks. Three site options are proposed for Yerrabi Pond District Park and two are proposed for Eddison Park.
"A similar consultation was held in late 2014 for new outdoor fitness stations in Tuggeranong, Belconnen and Theodore which saw equipment such as an aerobic walker, parallel bars, leg press, trapeze rings and an overhead challenge installed at the facilities."
Mr Rattenbury said the new fitness stations will expand the ACT Government's network of fitness equipment which is featured in 20 Canberra suburbs.
"The ACT Government is investing $120,000 in the project as part of the Healthy Weight Initiative which aims to support Canberrans making healthy choices and leading healthy, active lives," Mr Rattenbury said.
"These works follow the Find Fitness Outdoors campaign which this year challenged Canberrans to get outdoors and exercise through free fitness sessions with qualified instructors and by sharing their fitness journey on social media using the hashtag #CBRoutdoors.
"Visit the Find Fitness Outdoors website at www.tams.act.gov.au/outdoorfitness to locate your nearest outdoor fitness station and view videos demonstrating how to correctly use the equipment.
"The ACT Government is working towards a more strategic approach to coordinating and encouraging recreational activities across Canberra and, as both Minister for Sport and Recreation and Territory and Municipal Services, I'm really pleased to be progressing a number of projects to create a healthier, more active Canberra.
"To help design the new fitness stations planned for Yerrabi Pond District Park and Eddison Park please complete an online survey at www.timetotalk.act.gov.au or pick up a hardcopy survey from the public library branches in Gungahlin and Woden. Consultation closes 5 pm 21st August," Mr Rattenbury concluded.