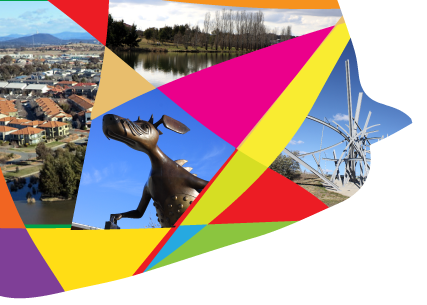 ACT Chief Minister and Minister for Health, Katy Gallagher MLA, on Sunday joined Canberrans at an open day for the new Gungahlin Community Health Centre ahead of the new centre opening its doors to its first clients on Monday 3 September 2012.
The new $18 million health centre will offer: community nursing ambulatory clinics; allied health services including physiotherapy and podiatry; dental surgeries for children and youth; and a range of services for women and children including a women's health nurse and a nutrition clinic.
"The community open day is a fantastic opportunity for the people who will use the health centre to take a look at this fantastic new facility," the Chief Minister said.
"This new health centre will provide a real boost to the services available to Canberra's fastest growing-area. I'm sure Gungahlin residents will welcome access to community health services closer to home."
During July the Health Directorate held information stalls to inform local residents about the services that will be offered from the new centre.
"It is very clear from the feedback that we received during the information stalls that this new health facility is highly anticipated by the Gungahlin community," the Chief Minister said.
The new Gungahlin Community Health Centre is a part of the ACT Government's Health Infrastructure Program which also involves building a new enhanced community health centre at Belconnen; and expanding and refurbishing the existing health centre at Tuggeranong.
"We are delivering more nurses, more beds and better facilities in our health system, the new health centres have been planned to deliver a comprehensive range of services to a growing population in an innovative, integrated, quality model," the Chief Minister concluded.
The building includes many environmentally sustainable design principles such as: energy efficient lighting systems; fresh air ventilation; air-cooled chillers, as opposed to water-cooled chillers; cyclist facilities for sustainable transport; and storm water retention tanks located beneath the surface-level car park which retain captured water used for irrigating the landscaped areas.
It has been designed to ensure that it is clearly recognisable within its surroundings as a community-friendly facility, and to meet the needs of a diverse community.
ACT Pathology has relocated its Gungahlin collection centre in to the new health centre and will begin operating on Monday 3 September. The first appointments for community-based health services will commence on Tuesday 4 September.
The Gungahlin Community Health Centre is located in the Gungahlin Town Centre, at the corner of Ernest Cavanagh Street and Fussell Lane.
Courtesy of Katy Gallagher MLA, Media Releases.