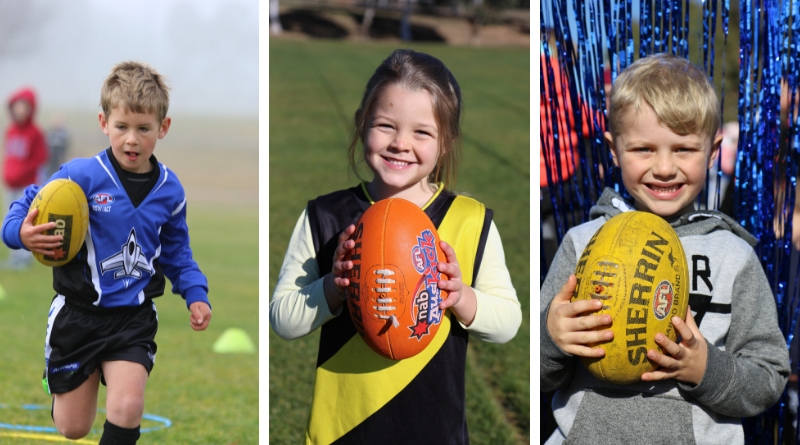 Auskick Rookie is for kids aged 5-7 (although the Gungahlin Jets may accept kids who aren't quite 5, and those who have just turned 8 and not yet ready for the next level, Auskick Pro).
Auskick Rookie aims at teaching the basic skills of AFL mainly: kicking, marking, and hand-balling. Skills are taught through fun, interactive drills and games, and practiced by playing a modified AFL mini-game. With a focus on fun, Auskick Rookie also aims at laying the foundations of the importance of teamwork and good sports conduct.
The Gungahlin Jets assigns Auskick Rookies into teams based upon age and 'experience'. This ensures, as much as possible, that kids are of the same height and skills, optimizing their opportunity to participate, learn and develop…all while having fun.
On the day, Auskick Rookies should wear comfortable sports clothes (club colours are encouraged) and footwear, and bring their own water bottle. During summer months, Auskick Rookies should have sunscreen on prior to arriving at the oval.
Due to ACT ground closures and school holidays throughout March and April, Auskick Rookie will be in two distinct sessions. Four weeks in February and ten weeks from late April to June.
Session One: 10 February 2019 – 03 March 2019
Session Two: 28 April 2019 – 30 June 2019
Session Day: Sunday
Session Time: 1000-1130
The Gungahlin Jets is a community Club with a strong focus on family, fun, participation, and encouragement. We look forward to welcoming you and yours to our Club.
Register for Jets Auskick Rookie at the following link: