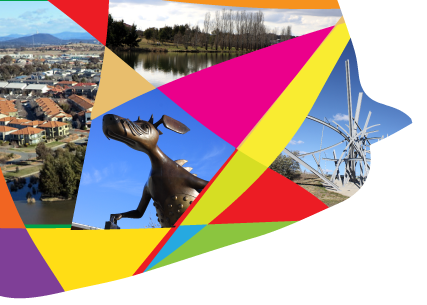 Crace's $3.6 million recreation park spanning 4.5 hectares is a facility unlike anything Canberra has ever seen and has been hailed as a model for future parks by the ACT Government.
Designed to appeal to a broad range of users, the multi-purpose sport and recreation facility provides irrigated open spaces, formal sports facilities as well as recreation activities including a playground, BBQ amenities and an extensive path system for general recreation.
Our vision was to provide a park that would provide multiple opportunities fo the new residents of Crace, of all ages, shapes and sizes, to get outside and get active and use the park," says CIC NSW/ACT landscape manager Matthew Frawley.
"It shows that a park can be so much more than just sport or trees or grass, it can be all of these things when well designed."
The park's main features include a multi-use full sized sports court with lighting, which can accommodate basketball, netball and soccer. A half court with a tennis hitting wall will accommodate both tennis and netball and there's a single cricket net plus a state-of-the-art outdoor gym. There are two kickabout spaces spanning 8000m2 one to accommodate younger users and families, and the other suitable for older users and more physical games.
A wetland system and stormwater harvesting pond irrigates more than two hectares of the recreation park and has been designed to ensure that the water source is over 90 per cent secure.
"To ensure that the created landscape integrates into the more natural landscape, mature trees have been planted so that the park appears well established from day one and shade is being provided," says Frawley. "We wanted to provide a wide range of facilities that would challenge the users as well as provide a beautiful landscape that will welcome people to Crace."