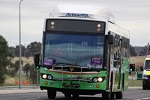 Changes to the ACTION bus timetable from Monday 18 May will improve buses running on time and reduce waiting times for Gungahlin commuters.
Member for Molonglo and Gungahlin, Meegan Fitzharris, urged local residents to check the new timetables prior to next week, and to make sure they had topped up their MyWay card to ensure a speedy commute.
"The changes are based on customer feedback and network analysis since the introduction of Network 14 and will provide more rapid and frequent services for our community," said Ms Fitzharris.
"As Minister Shane Rattenbury announced earlier this month, one of the changes will see Route 202, which runs express from the Gungahlin town centre to the City, going cashless from Monday 18 May.
"With over 96 per cent of users currently catching the Route 202 using a pre-paid MyWay card, transitioning to cashless is a logical step that will improve efficiency and streamline our bus network," said Ms Fitzharris.
The spacing of services going through the Gungahlin Market Place during the morning peak has also been improved to provide better options for passengers, and reduce wait times and bus bunching.
"The number of buses from the Gungahlin Market Place between 9am and 10am on weekdays will be almost doubled from four to seven, which will reduce passenger wait times from 15 minutes to less than 10 minutes.
"Plus there will be earlier Rapid Red services along Flemington Road to allow passengers to arrive in the Gungahlin Market Place by 7am. Currently, the earliest Red Rapid arrives at the Gungahlin Market Place at 7:30am. This will help cater for new staff in Winyu House when the ACT Government office block opens later this month.
"Route 51/251 has had a minor route change to now service part of Burrumarra Avenue and the northern part of Jabanungga Avenue. This will provide improved access to services for residents in Ngunnawal.
"And Route 250 will now extend through Hibberson Street to terminate and commence at the stops closer to Kate Crace Street to provide better access for passengers."
"All these improvements will help the ACTION bus service cope with increased demand for public transport in Gungahlin, Australia's fastest growing region," said Ms Fitzharris.