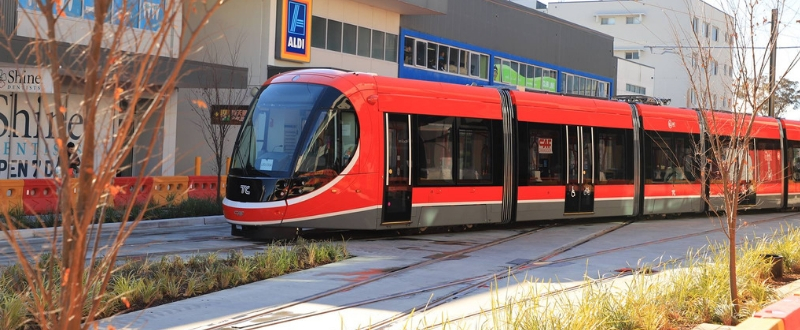 Canberra's Light Rail project is ready for operations, taking its first passengers on Thursday 18th April after almost three years of construction.
Canberra Metro's CEO Glenn Stockton said "it's a historic day for Australia's capital city as one of the most modern light rail systems in the world commences operations in Canberra".
The Canberra Metro consortium was appointed in February 2016 to deliver and operate the first stage of the Canberra light rail network. The consortium comprises Pacific Partnerships, CPB Contractors, John Holland, UGL, Mitsubishi Corporation, Aberdeen Infrastructure Investments, DB Engineering & Consulting (formerly Deutsche Bahn International), CAF and Mitsubishi UFJ Financial Group Ltd.
Mr Stockton commended the workforce of more than 5,000 who worked on the project over the construction period: "more than 300 local businesses were engaged as contractors to the project and 70% of the workforce were from the Canberra region. Their tireless efforts have delivered a safe, high quality and modern light rail system for Canberra".
Stage one of the light rail project is a 12 km route from Canberra's city centre to the fast- growing northern suburb of Gungahlin, and includes 13 stops, serviced by 14 light rail vehicles.
Mr Stockton thanked the ACT Government for their partnership and support during the construction phase: "we worked very closely with the ACT's Transport Canberra and City Services Directorate and the Minister for Transport. This relationship was critical to successfully delivering what is the biggest infrastructure project ever undertaken in the ACT" Mr Stockton stated.
During construction there were interruptions to traffic flows and pedestrian thoroughfares along the Northbourne Avenue and Flemington Road corridor: "I extend my most sincere thanks to the people of Canberra and local businesses for their patience and understanding as construction of this major project progressed. Infrastructure development of this magnitude and complexity inevitably does impact people and communities" Mr Stockton said. "We recognise this and appreciate the community's support throughout the construction period."
Canberra now has stage one of a light rail system that will support a growing population and economy. Mr Stockton said "Canberra Metro is proud to have been appointed by the ACT Government to be a partner on this journey of creating a modern and innovative transport network for Australia's National Capital.
"With the system now ready for operations we look forward to delivering on our commitment to provide Canberra with a world class, safe and reliable transport solution."