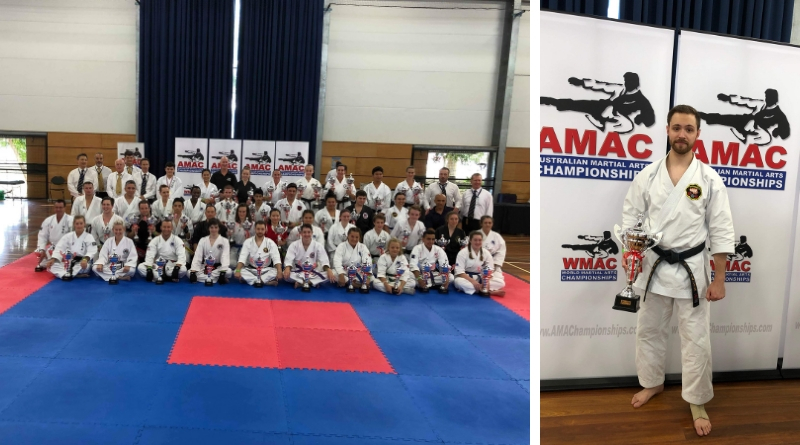 Over the weekend of 8-9 December, the Australian Martial Arts Championships (AMAC) held its 2018 National Titles on the Gold Coast with competitors travelling from around the country and New Zealand to compete across a range of events.
AMAC is Australia's largest multi-style martial arts circuit with over 20 events held throughout Australia annually, including three events in the ACT each year.
This year, Canberra karate instructor, Reece Cummings, travelled to the Gold Coast on Friday to compete for the coveted title of Australian Champion in Advanced/Black Belt Forms (where practitioners demonstrate their skill in a solo traditional martial arts demonstration).
On day one, more than 30 highly-skilled competitors from karate, taekwondo, kung fu and other martial arts who had qualified in the top spots in their State Titles competed for the top four spots, which would then go on to compete in the day two Finals Showcase. Consistently averaging a score above 9.00/9.99 Reece was successful in taking home the title of 2018 Australian Champion for Advanced/Black Belt Forms.
Reece runs Karate Canberra – Cummings Karate Dojo in Mitchell, a non-profit community-based school that teaches traditional martial arts for the modern world to kids, adults and families. The school operates out of a fully-dedicated centre with over 180 students and will celebrate its 10th anniversary in 2019.
"The karate we practise is not 'sports karate' nor is the focus about competition. It is about challenging yourself, setting goals, developing the focus and dedication in training needed to reach and increase your potential. While we predominantly focus on teaching practical self-defence skills, the attributes of traditional karate can transfer to tournaments and are another way to challenge the martial arts practitioner and put yourself out there for external critique and evaluation, and assist in developing discipline and confidence." Reece said.
Qualifying in the top 5 at the 2018 AMAC National Titles also gives competitors the chance to represent Australia around the world as a part of an international circuit, in countries including Japan, New Zealand, USA and Sri Lanka. Reece also placed in the top 31 competitors out of more than 200 this year, in a separate tournament, the 1st Okinawa Karate International Tournament, held in Japan in August.
"There were many competitors from different states at the National Titles, but in the Advanced/Black Belt Forms division, I was the only person representing the ACT, so to take home the title for Canberra and our traditional karate school, was a proud achievement." he continued.