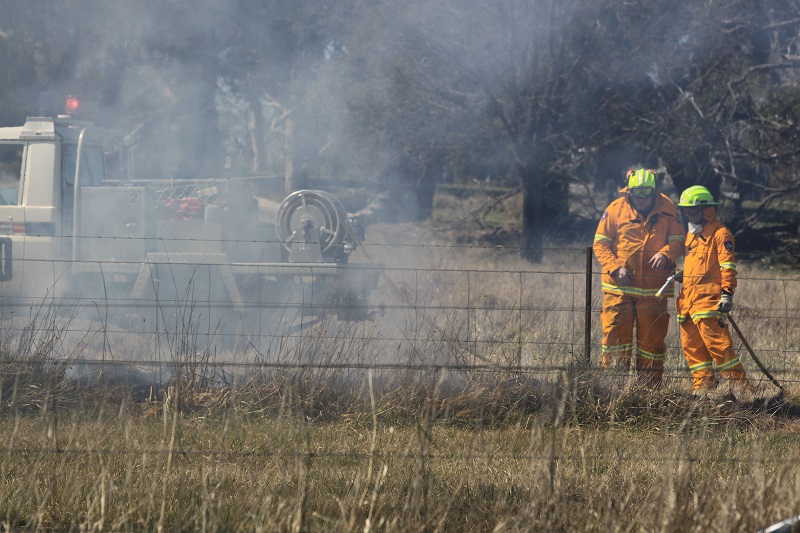 The following is to provide details on a variety of different initiatives for bushfire relief. As we become aware of more initiatives we will update this list. Please let us know if you know of other initiatives not listed.
Red Cross
Red Cross is providing financial and other support to bushfire victims. Your tax-deductible donation to Red Cross Disaster Relief and Recovery can help them be ready to respond to any emergency in Australia. Please donate now or by calling 1800-RED-CROSS (733 276).
Vinnies Canberra/Goulburn
St Vincent de Paul Society have a bushfire appeal running https://donate.vinnies.org.au/appeals-nsw/vinnies-nsw-bushfire-appeal-nsw
Salvation Army Emergency Services (SAES) teams are responding to devastating bushfires around Australia as an unprecedented number of emergency-level fires cause tragic loss of life and property.
Your generous donation means that we can deliver crucial support right when it's needed, and that we can stay as long as it takes to help local communities make a full recovery.
Donate here:
https://www.salvationarmy.org.au/donate/make-a-donation/donate-online/?appeal=disasterappeal
NSW RFS
Support your local NSW brigade.
Donate here: https://www.rfs.nsw.gov.au/volunteer/support-your-local-brigade
Register items for donation such as clothes and household items with GIVIT who will attempt to link you with the people that most need it.
#SLABFORHEROES
ASEC 118 Lysaght Street, Mitchell. Best access is from Hoskins Street end of Lysaght Street.
Donations required are non-perishable foods, snack foods, tea, coffee, sugar, disposable cups and spoons, toiletries, feminine hygiene products. Packing boxes and packaging tape required.
Please check https://www.facebook.com/groups/1436604429838828/announcements/ for full list of items required, timings for drop offs and if volunteers are required.
Other locations listed below but confirm hours in the link above.
Northies – 163 Maribyrnong Street, Kaleen from 11am til midnight.
Murrumbateman Country Inn from 11am.
Priceline Yass business hours.
Transtate Tyres Reed Street, Greenway business hours.
Autobarn Stores in Majura and Tuggeranong.
Dawsons Heating and Cooling 5 Gregory Street, Qbn business hours
Convoy for Wildlife
Gungahlin Village is a designated drop off hub for Animal Rescue Collective in front of Coles and Reject Shop available when the centre is open.
Donations required are dry pet food, bird seed, hay and chaff (oaten, meadow, teff), macropod pellets or mitavite economix, hanging baskets/planters (wire or coir), blankets (e.g. Kmart pet blankets), pet bowls, plastic basins, sandpits, jerry cans for water, 10l casks of water, litter trays.
Other locations for drop off
HUGHES – 15 Bamford St (drop in carport)
MAWSON – 5/191 Beasley street
BANKS – 1 Hill Place Banks
THROSBY – 5 Bandicoot street
CURTIN – 1 Peacock Place (carport is on Waterhouse street side)
CRESTWOOD – 13/116 Henderson rd
MELBA – 73 Alfred Hill Drive
GOOGONG – 14 Feagan Street
CHISHOLM – 4 Wilcox Place
BELCONNEN – Canberra Cat Vet, 16 Purdue St
GILMORE – 47 May Maxwell Cres
WATSON – 11 Wade St (leave under main carport, near deck)
QUEANBEYAN – 1/16 Broughton Place
Shoes for the South Coast
The Runners Shop – Canberra are now accepting donations of good condition running shoes to go to fire-ravaged communities on the south coast of NSW through #SlabsForHeroes. Shoes must be clean and not have holes in the uppers or soles. Anybody providing shoes will receive a 10% discount on a replacement new pair of shoes (including sale stock).
The Runners Shop – Gungahlin Village, 1/46-50 Hibberson Street, Gungahlin and76 Dundas Court Phillip.
Clothes Off Our Backs, Bush Fire Victims
Only donate good quality clothing (not tattered, no holes etc.) and no used underwear.
Please if you wish to donate from this point forward – can you please take the time to sort your clothing into the following:
Women's – separated into sizing
Men's – separated into sizing
Children – separated into sizing
LINEN: into sets if you're donating an entire set, and label what size the sets are.
Shoes – please tie shoelaces together. Sort into men's, women's, children and Under2yo.
More information:
https://www.facebook.com/Clothes-Off-Our-Backs-Bush-Fire-Victims-107595254095836/
Feminine Hygiene Products and Nappies
Fernwood at Marketplace Gungahlin is a drop off location for feminine hygiene products and nappies. This will be passed onto #slabsforheroes and Share the Dignity who are working with charities and other organisations to get these to the right places.
Bushfire Emergency Accommodation in Canberra
A Facebook Group has been established to connect those evacuating from the South East Coast bushfires to those in Canberra and surrounding areas who can provide emergency accommodation, whether it be a room or a backyard for a caravan, tent etc.
If you are able to offer accommodation you can offer do so in this thread https://www.facebook.com/groups/1639155472891471/permalink/1639402979533387/