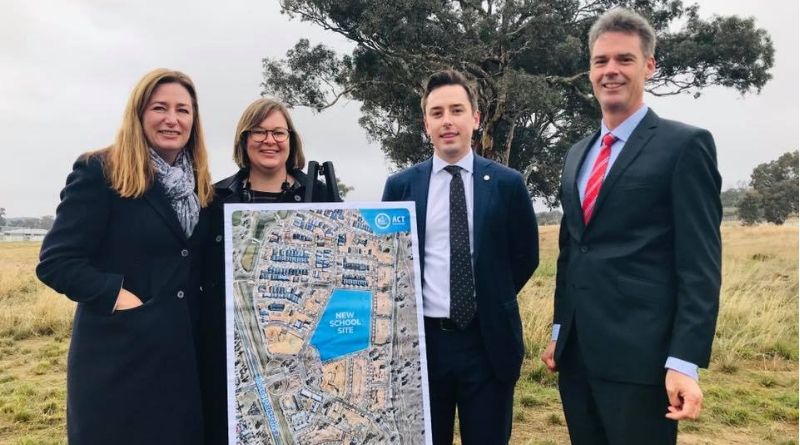 The ACT Government is building for Canberra's future and delivering on our election commitments by investing in new and expanded schools for our growing regions. The upcoming ACT Budget will get work underway on two new schools for Gungahlin to make sure every young person has a place at a great local public school.
In Throsby, we will deliver a new primary school catering for Kindergarten to Year 6. The new primary school will be built with capacity for 450 students and up to 132 preschool students, with space to accommodate future student growth.
The school will be built to the highest standards of sustainability, including all-electric heating and cooling systems. It will feature high quality learning environments incorporating both indoor and outdoor learning areas, as well as integrated spaces to support students with specialised needs.
The new Throsby school will be ready to take students for the 2022 school year, making more primary places available in Gungahlin when they're needed.
We will also deliver a new high school in Kenny to cater for enrolments from across Gungahlin. This school will cater for 800 students from Years 7 to 10 with room for temporary expansion to accommodate more places if required. It is planned to open in the 2023 school year.
The 2019 Budget delivers the initial funding to undertake planning and design for the new high school, with provision also made within our capital program for its construction.
Gungahlin is one of the fastest growing regions in Australia, and this creates growing demand for places at our local public schools. Population forecasts show the suburbs of Moncrieff, Taylor, Jacka, Kenny and Throsby will welcome 2,300 new children by 2028.
As Canberra grows, it is vital that our high-quality public education system grows with it. This investment in schools forms a key part of our ongoing work to delivering the services and infrastructure Canberrans need today and in years to come.
ACT Government