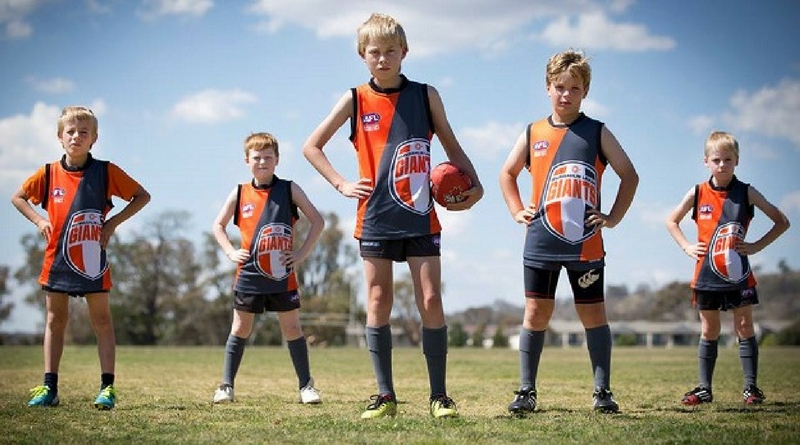 The Ainslie Football Club in partnership with Gungahlin Lakes Community & Golf Club today launched the Gungahlin Lakes Giants at Harrison School assembly. The players for the new junior teams will be from the existing Harrison School teams and being joined new players around the local and surrounding area.
Ainslie Football Club also announced that their major sponsor for their senior teams in the NEAFL and AFL Canberra competitions would be ROLFE MOTORS VOLVO.
Rolfe Volvo will also be the foundation sponsor of the Gungahlin Lakes Giants.
Gungahlin Lakes Giants is affiliated to Ainslie Football club's NEAFL teams thus providing a pathway and opportunities for all junior players to move into higher age groups, progressing to seniors and hopefully on to the AFL if they would like to.
The Giants plan is to grow from the current Under 8, 9 and 10 teams up to under 16s. Player will then join the AFC senior program at the Under 18s level.
The General Manager of AFC, Mr John Smith said; "Today was all about attracting more AFL junior players to the game and growing the sport in the Canberra region. The Harrison school and region is the fastest growing residential region in Australia and we are very proud to be associated with the Harrison School and the region in general. We have a long and valued association with the Harrison School and their sports programs. This is an expansion of that commitment, and brings the area of Gungahlin into our growing family."
Mr Brett Penyu, Principal Dealer of ROLFE MOTORS VOLVO in Phillip, was excited about being becoming involved in a new junior club and as the major sponsorship of the AFC. ROLFE MOTORS VOLVO will also be a corporate partner of Gungahlin Lakes. Mr Gavin Pound from Gungahlin Lakes welcomed ROLFE MOTORS VOLVO as a principal partner and looked forward to a strong partnership between to two organisations.