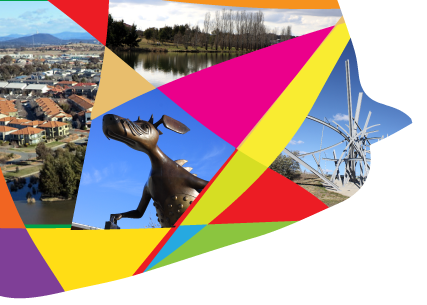 Fiction or non-fiction, novel or short story, hardcopy or eBook – no matter what form, Libraries ACT encourages you to join in the celebration of Children's Book Week by getting the pages turning.
Book Week 2014 runs from Saturday 16 to Friday 22 August 2014 and is held by the Children's Book Council of Australia (CBCA).
"Book Week is in its 69th year and, while the concept of a book may have changed with the introduction of eReaders and eBooks, our love for reading has only grown," said Vanessa Little, Director, Libraries ACT.
"Throughout the week, Libraries ACT is holding a range of story time activities for children to connect to reading, which is the theme of this year's event.
"We will be kicking off Book Week on 16 August with a Bob-a-thon. During this special story time, Bob Graham's much-loved books will be read to Erindale Library visitors between 10.30 am and 11.30 am.
"Children aged 3 to 7 and their parents are invited to join author Dr Gina Newton for a special reading of her book Blossom Possum the sky is falling down under. Gina will visit Tuggeranong Library on Tuesday 19 August and Gungahlin Library on Thursday 21 August for a story time at 10.30 am. Bookings are required.
"Dickson Library will also be holding an activity throughout Book Week for people who want to join in the celebrations but are unable to attend one of the scheduled events. Look for clues within the library to locate the Book Week character of the day.
"Towards the end of Book Week we will be celebrating The Reading Hour organised by Love2Read. The Reading Hour is an event that encourages people of all ages from around Australia to read at the same time, for one hour at 6 pm on Tuesday 19 August.
"It doesn't matter what you read, as long as you find it interesting. Reading is a skill for life, and a beneficial way to improve well-being.
"Everyone benefits from reading at least one hour per week, and The Reading Hour is a fun way to share the enjoyment reading brings with others. You can find out more about Love2Read at their website http://www.love2read.org.au/.
"I encourage families to have a look at the 2014 Book of the Year award short list, where they're sure to find books that the kids will love and the whole family can enjoy together. The list is available on the CBCA website at www.cbca.org.au
"Visit www.library.act.gov.au for more information on Libraries ACT's Book Week activities. Please note that some activities require a booking which can be made online or by calling 6205 9000."